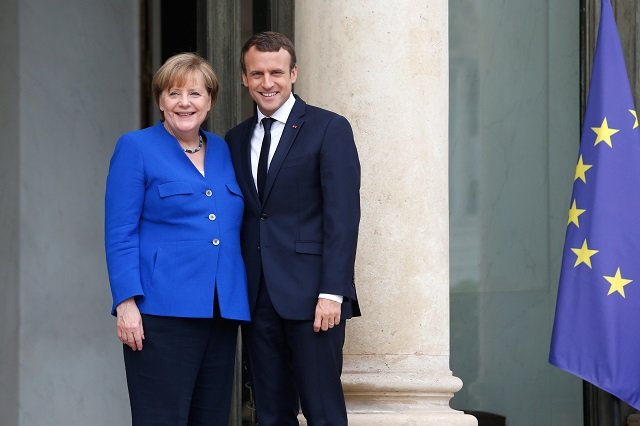 ---
BERLIN: The leaders of Germany and France urged Russia Sunday to exert "maximum pressure" on Syria for an 'immediate' implementation of a UN ceasefire in the war-ravaged country, Berlin said.

German Chancellor Angela Merkel and French President Emmanuel Macron stressed in a telephone call with Russian President Vladimir Putin "that it is crucial that the (UN) resolution be implemented quickly and comprehensively," Merkel's office said in a statement.

"They call on Russia in this context to exercise maximum pressure on the Syrian regime to achieve an immediate suspension of air raids and fighting."

Rebel groups in Syria enclave welcome ceasefire call

The statement said Merkel, Macron and Putin had all welcomed the UN resolution on a ceasefire for at least 30 days "particularly to allow humanitarian aid into and evacuations out of the war zone".

Merkel and Macron stressed that a ceasefire could be "the basis to advance efforts toward a political solution in the context of the UN-led Geneva peace process".

"Germany and France continue to be willing to work with Russia and other international partners toward this goal," Merkel's office added.
The leaders held talks after the UN Security Council on Saturday unanimously demanded a 30-day truce in Syria.

More than 520 civilians are thought to have died in a week of heavy bombardment by Syria's regime of the rebel enclave of Eastern Ghouta, just outside Damascus.

After the council vote, which had support from Moscow, Syrian warplanes backed by Russian air power launched new raids on Eastern Ghouta, the Syrian Observatory for Human Rights said.

The Britain-based monitor said at least 41 civilians were killed in Saturday's strikes, including eight children. Russia has denied taking part in the assault.

US blasts Russia over strikes on Syria rebel enclave

Seven more civilians were believed to have been killed on Sunday, and Observatory chief Rami Abdel Rahman said that although there appeared to be fewer air strikes, fighting had intensified on the ground.

In a statement issued by the Elysee palace on Sunday, Macron stressed that France would be "extremely vigilant so that the resolution adopted at the UN would not go unheeded and that concrete and rapid progress on the level of needs is made on the ground to alleviate the suffering of civilians" as called for by the United Nations and humanitarian organisations.

"France is ready to actively support them," Macron said, adding that France's Foreign Minister Jean-Yves Le Drian will go to Moscow on Tuesday.