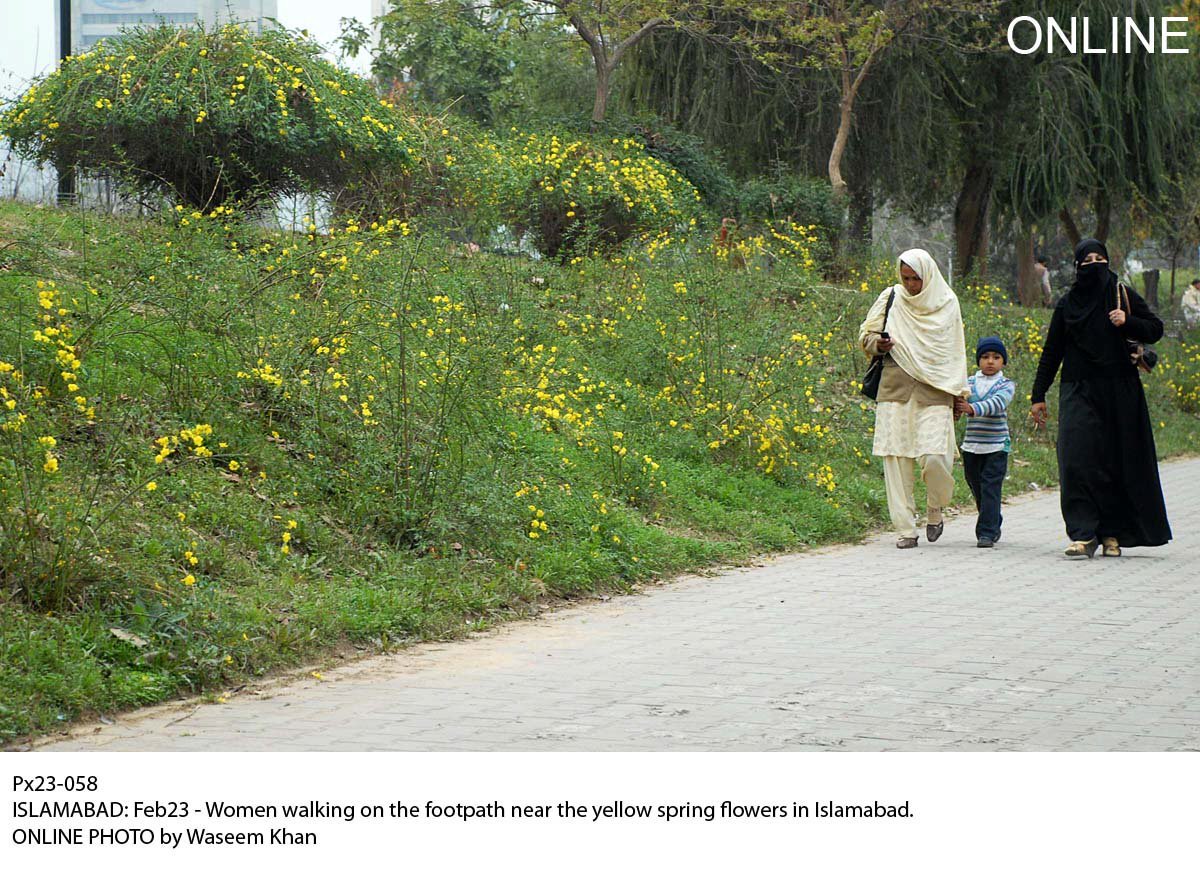 ---
ISLAMABAD: Even as spring showers doused the capital, health authorities in the city are on alert ahead of the impending pollen season.

Last year saw the record highest concentration of pollen in the capital with highs reaching over 44,000 per metric cube of air As a result, doctors in the capital are apprehensive about another heavy pollen season this year.

The administration of the largest tertiary care hospital in the capital, the Pakistan Institute of Medical Sciences (Pims), has asked pollen allergy patients to come in for a checkup at the pulmonology outpatient department (OPD) for starting a course of preventive medicines.

Pims has transferred more staff in the emergency section for treating patients suffering from pollen allergy during the season, said Dr Waseem Khawaja, a spokesperson for the hospital.

Patients suffering from allergy symptoms can come for a checkup in Pulmonology OPD from 8am to 2pm, he said, adding that those exhibiting more severe symptoms even seek treatment directly in the emergency section which is open around the clock.

Moreover, parents can bring children to the children's OPD from 8am to 2pm. If the child feels difficulty in breathing, they can be taken to the children's emergency at any time.

For this purpose, he said that extra nebulisers have been installed in adult and children emergencies.

Every person has a different response to the number of pollens. Some suffer severe respiratory problems even when the concentration of pollens is low in the air, he said.

Dr Khawaja explained that those who suffer from it every year could exhibit minor symptoms or will be finished if they start taking medicines two weeks before the pollen season starts.

He advised patients to keep their rooms hermetically sealed and their carpets free because pollen grains get enmeshed in carpets. They should also avoid going outside from 11am to 1pm and 4pm to 7pm, times when the pollen count is high. If going outdoors is necessary, he advised they should wear wet masks.

The pollen season in Islamabad and Rawalpindi is likely to start in March — which coincides with the spring season. People suffering from asthma and other respiratory diseases can experience serious consequences due to a sharp increase in pollen concentrations. Weather can also influence allergy symptoms.

The pollen concentration increases gradually with the onset of spring season and peaks around mid-March.

The most abundant pollen types in Islamabad are from eight trees (i. e. Paper Mulberry, Acacia, Eucalyptus, Pines, Grasses, Cannabis, Dandelion and Alternaria). Out of all these plants Paper Mulberry shares about 97% of the total pollen and its concentration touches the extreme limits of about 40,000 per cubic meter of air at the peak of the blossom season. People suffering from Asthma and respiratory diseases experience serious consequences due to a sharp increase in pollen concentrations.

In the last 24 hours pollen count was 15 grains per cubic metre of air in Islamabad.

Published in The Express Tribune, February 26th, 2018.