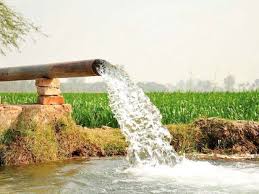 ---
HYDERABAD: Sindh Irrigation and Drainage Authority Chairperson Muhammad Nawaz Chandio has claimed that Punjab is stealing around 4,000 cusecs of water from Sindh's share every day. "The Sindh government is fighting the case to get its rightful share of water from Punjab," he said while talking to the media at a consultative meeting with farmers at the Sindh Chamber of Agriculture (SCA) office in Hyderabad on Sunday.

The farmers at the meeting, which was held to discuss and get the farmers' recommendations to prepare the draft of Sindh's water policy, blamed the provincial government for failing to stop the theft of Sindh's water. Thousands of acres of land in Sindh can be irrigated by 4,000 cusecs of water.

Meanwhile, for the policy draft the SCA suggested that Bhasha dam be built to prevent any future water crisis. The chamber also emphasised on immediate rehabilitation of Manchar, Keenjhar and other lakes in the province for irrigation and storage purposes.

SCA President Qabool Muhammad Khatian, General Secretary Zahid Bhurgari and other office bearers pointed out that at least eight million acre feet of water is wasted during the flood season. They put forward that small lakes and streams in Sindh should be rehabilitated to store this water.

Chandio said that the initial draft and findings of the water policy will be shared at a consultative event in Karachi.