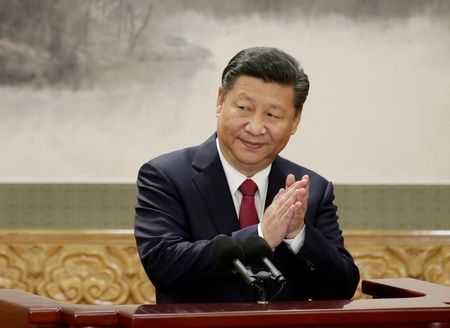 ---
BEIJING: China's Central Committee proposed on Sunday to remove a limit of two consecutive terms for the president and vice president, the official Xinhua news agency reported.

The committee proposed removing the clause "shall serve no more than two consecutive terms" from the constitution, Xinhua reported.

The Central Committee also proposed inserting "Xi Jinping Thought on Socialism with Chinese Characteristics for a New Era" into the constitution, Xinhua said in a separate statement, referring to President Xi.

China to enshrine Xi's name in state constitution

Earlier, China's Communist Party proposed to engrave President Xi Jinping's guiding philosophy in the country's constitution, further cementing his status as its most powerful leader in decades.

Xi's eponymous "thought" was already enshrined in the Communist Party constitution at a major congress in October, elevating him to the same status as modern China's founder Mao Zedong.

China confirms Xi Jinping as country's most powerful leader since Mao

The architect of China's economic reforms, Deng Xiaoping, is the only other leader whose name appears alongside his guiding principle in both the state and party constitutions.

The elevation of Xi, 64, into the Communist Party constitution in October had already brought him into the pantheon of the country's most powerful leaders.