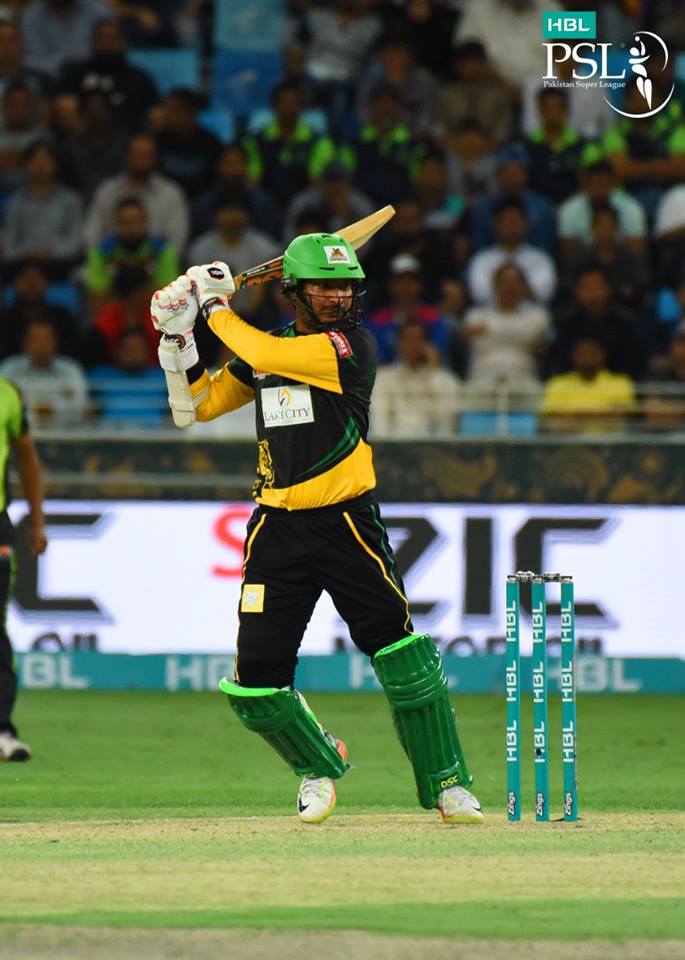 ---
There was a brief moment in Dubai on Friday in which the ball was soaring through the air and Multan Sultans captain Shoaib Malik was admiring it sail into the stands. Another second after that, the ball was caught by a jubilant fan in the stands and Malik could not help but smile in admiration.

He was smiling, of course, at the force of nature just a few yards in front of him. There, standing as majestic as always, was the 40-year-old Sri Lankan Kumar Sangakkara. The bowler he had just smashed so dismissively over the leg-side boundary was Bangladesh sensation Mustafizur Rehman, who was four years old when Sangakkara made his international debut 18 years ago.

The 22-year-old had strayed just ever so slightly onto Sangakkara's pads. Against most batsmen in the world, he would have gotten away with it. But then again, Sangakkara is not like most batsmen.

Watch that shot again and it is easy to forget a lot of things. It is easy to forget that Sangakkara is a batsman known primarily for his exploits in Test cricket. It is easy to forget that Sangakkara is 40 years old and retired from international cricket more than three years ago. It is easy to forget that Mustafizur is one of the best T20 bowlers around and has an average of 16.92 and an economy of 6.55 in T20Is.

Perhaps that is the reason why Karachi Kings allowed him to leave and join Multan Sultans instead — judging on early form; it looks like the gravest of mistakes. Karachi's lack of experience and power at the top of the innings may be their biggest weakness and the simple act of retaining Sangakkara would have fixed that issue.

As things stand though, that bizarre piece of decision making makes Multan Sultans the team to beat. Sangakkara's presence alongside the likes of Malik, Imran Tahir, Muhammad Irfan and Keiron Pollard surely make the newcomers the most daunting side of them all.

Over the last 18 years , it is difficult to figure out precisely what is more impressive — the way Sangakkara has evolved his game for the needs of modern-day cricket or the way he has done so while never compromising on the things that make Sangakkara Sangakkara.

The left-hander is surely one of the greatest Test cricketers of all time — his consistency and sheer brilliance over such a long period are certainly unmatched. It makes sense then that he doesn't share the same bravado that the likes of AB de Villiers or Glenn Maxwell do. How can he have such reckless disregard for his wicket when he has spent his entire life protecting it so religiously? How can he disregard the one instinct he has honed and perfected over the years?

Yet Sangakkara continues to find ways to score and score quickly, continues to find way to stay relevant, continues to find ways to send a delivery bowled by a 22-year-old T20I sensation miles into the Dubai night sky with just an arrogant flick of his wrist, continues to find ways to defy time itself.

That Mustafizur over was significant for other reasons as well. Just two balls later, Sangakkara somehow managed to sneak a run after Lahore wicketkeeper Umar Akmal fumbled the ball for a brief moment. It was just a brief fumble and Umar was onto it in a flash and hit the stumps superbly. That a 40-year-old managed to run 22 yards in the same time it took a 27-year-old to bend down, pick up the ball and throw it onto the stumps is as much an indictment of the younger player as it is an ode to the fitness of a man 13 years his senior.

The very next ball, Sangakkara was dismissed. For 63, off just 44 balls. He had done his job. Yet when he fell, the pain that was invariably etched across his face told the story of his career. No matter how and when he gets out, Kumar Sangakkara hates it. The game doesn't matter, the context and the situation doesn't matter, the opposition doesn't matter. All that matters is that he had fallen. All that matters is that his wicket was taken away from him.

Combine a mentality like that with picture-perfect technique and you have one of the most stylish and devastating batsmen ever to grace a cricket pitch. Sangakkara doesn't bring a gun to a knife fight, he brings a reinforced panzer. He doesn't face the bowlers, he utterly dominates them. He doesn't manipulate the ball, he manipulates time itself.

How Karachi would be hoping they could have such powers right now so that they could turn the clock back and retain Sangakkara at all costs; just like they should have in the first place.
COMMENTS
Comments are moderated and generally will be posted if they are on-topic and not abusive.
For more information, please see our Comments FAQ