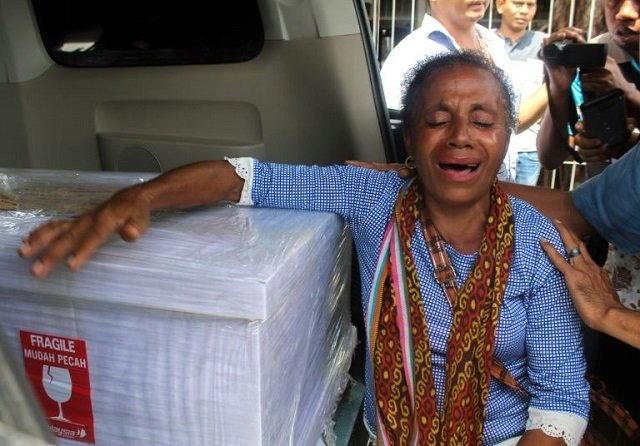 ---
KUALA LUMPUR: Trafficked to Malaysia, forced to sleep outside with a dog before dying from serious injuries - the latest abuse case involving an Indonesian maid highlights a failure to protect domestic helpers despite repeated government pledges, critics say.

Adelina Sau died earlier this month in a hospital a day after being rescued from her employer's house in Malaysia's Penang state, with wounds covering her body.

Two arrested in Kuwait frozen maid case

Her 60-year-old employer was charged with murder this week, and in Indonesia, two people have been arrested on human-trafficking charges for allegedly using fake documents to send her abroad.

About 2.5 million Indonesians work in affluent Malaysia - many illegally - in sectors ranging from agriculture to construction, including an estimated 400,000 female domestic helpers.

Allegations of abuse are common. These range from overwork, to beatings and sexual abuse, and the issue is a regular diplomatic flashpoint between the Southeast Asian neighbours.

Sau's death sparked widespread anger in Indonesia. Foreign Minister Retno Marsudi has branded it unacceptable while Jakarta is reportedly considering reimposing a ban on sending domestic helpers to Malaysia.

Jakarta last banned sending maids to Malaysia in 2009 after a series of shocking cases, only lifting the measure two years later following lengthy negotiations that resulted in an agreement to give Indonesian helpers better conditions.

However, abuse and exploitation is still regularly reported, and activists lament that pledges made to better protect maids appear to have had little effect.
Glorene Das, executive director of Tenaganita, a Malaysian rights group that deals with migrant workers' cases, said Sau's death was "symptomatic of a widespread and deep-seated malaise in our society."

She said there was an "utter disregard for the dignity and rights of migrant workers in general and migrant domestic workers in particular".

There has been a string of headline-grabbing abuse cases in recent years involving maids in Malaysia and other Asian countries where helpers are employed.

In 2014, a Malaysian couple were sentenced to hang for starving their Indonesian maid, Isti Komariyah, who weighed just 26 kilogrammes (57 pounds) when she died.

The plight of Indonesian helper Erwiana Sulistyaningsih in Hong Kong, who was badly beaten and starved by her employer, sparked international outrage and made her the face of a movement fighting to force change for the city's army of maids.

And the death of a Filipina maid in Kuwait, whose body was found this month stuffed in a freezer, has sparked outrage in the Philippines and prompted the government to impose a departure ban on Filipinos planning to work in the country.

In Malaysia, Tenaganita believes a major cause of the problems is that maids lack proper legal protection.

Das said that a 1995 employment law supposed to protect domestic workers defines them as 'servants' rather than workers, meaning some employers have few qualms about meting out abuse.

Live-in Indonesian maids in Malaysia earn as little as around 1,000 ringgit ($250) a month, far lower than in wealthier places such as Hong Kong or Singapore.

But critics say the problems in Indonesia are just as bad, with authorities failing to protect poor women from being illegally trafficked abroad.

Wahyu Susilo, executive director of Indonesian NGO Migrant Care, said there was 'chaos' in the recruitment process.

"There is a tendency to falsify documents to speed up the process and ignore rules about age limits," he told AFP.

Domestic helpers are legally meant to be at least 21 to work abroad but many are younger.

Sau - from a remote village in impoverished East Nusa Tenggara province - was believed to be 19 when she died, and her family claims an unscrupulous recruiter falsified documents to make it look like she was six years older.

Death of maid treated 'like a dog' casts spotlight on migrant abuse in Malaysia

Susilo added there was little oversight of recruiters in poor villages such as Sau's where women are commonly hired, and corrupt officials were sometimes involved in illegally sending helpers abroad.

Activists accuse governments in both countries of failing to take the issue seriously, pointing out that the deal struck in 2011 to improve maids' conditions in order to lift the ban had expired two years ago.

Malaysian Deputy Prime Minister Ahmad Zahid Hamidi has insisted Sau's death was an isolated case and called for a new deal to replace the 2011 agreement.

"We are concerned about the welfare of maids from Indonesia," he said.