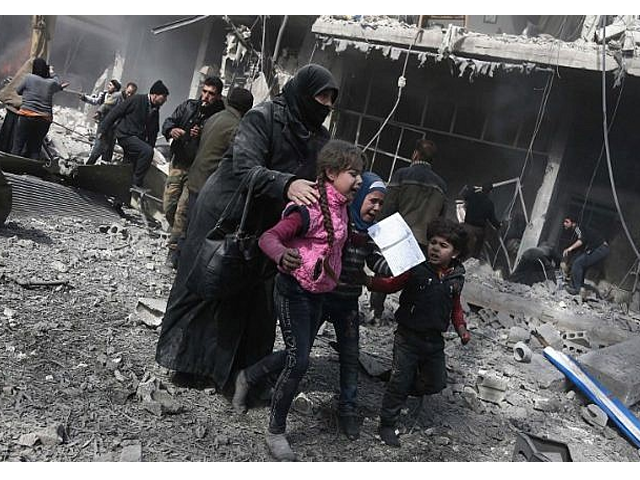 ---
ANKARA:

Turkey called on the international community to end the "massacre" in the Syrian rebel enclave of Eastern Ghouta hit by intense regime bombardment ahead of a UN Security Council vote on Saturday.

"The regime is committing massacres in Eastern Ghouta," Turkish President Recep Tayyip Erdogan's spokesman Ibrahim Kalin said on Twitter.

"The world should say stop to this massacre together," Kalin said.

New air strikes hit the enclave on Saturday raising the civilian death toll from seven days of intense bombardment to over 500 including more than 120 children, according to the UK based Syrian Observatory for Human Rights monitor.

The UN Security Council had been due to hold a vote on Friday on a resolution calling for a 30 day ceasefire to allow aid deliveries and the evacuation of seriously wounded civilians but diplomatic haggling delayed it.

More bombs fall on Syria's eastern Ghouta ahead of UN vote

Turkish Foreign Minister Mevlut Cavusoglu on Friday called on Russia and Iran to "stop" the regime's bombardment in one of the conflict's bloodiest episodes.

While Turkey has supported Syrian rebels, Russia and Iran are strong supporters of Syrian President Bashar al Assad.

As part of a peace process held in Astana aimed at stopping the seven year war, the three countries sought to create de escalation zones across Syria, including one for Eastern Ghouta.

More than 340,000 people have been killed, and millions forced to flee the country or internally displaced in the conflict, which began with anti government protests in 2011.