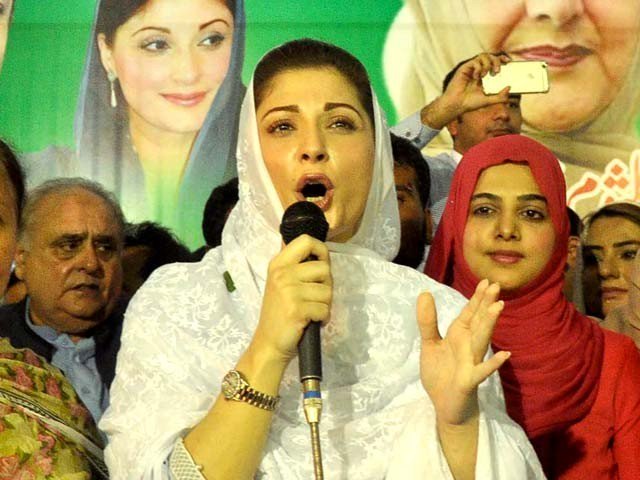 ---
LAHORE:

[fbvideo link="https://www.facebook.com/etribune/videos/2219298354753845/"][/fbvideo]


Nawaz Sharif will remain president of the Pakistan Muslim League-Nawaz (PML-N) and become the prime minister of Pakistan again, claims Maryam Nawaz.

Addressing a large crowd at the partys' social media convention in Sargodha on Saturday, Maryam continued to attack judiciary over the disqualification of her father Nawaz Sharif as country's prime minister and party president.

She said that the Supreme Court verdict did not disqualify Sharif, but the people of Pakistan.

"I bring to you not just the case of Nawaz Sharif but the case of the people of Pakistan. They have not disqualified Nawaz Sharif but the people of the country," she said. "Your party is thrown out of the Senate [election]," he told the gathering.

Avenfield reference: Expert says Calibri font existed since April 2005

Maryam said that first Sharif was removed from premiership and then as party president. "Nawaz Sharif does not need party presidency or any seat to rule the people of this country. You have to disqualify millions of voters and supporters [first] to disqualify Sharif," she added.

According to her, the massive public support for Sharif is the proof of his innocence. "All the rants against us failed to produce any evidence of corruption of even a single paisa... I say don't tell us about Sharif family assets, tell us about our corruption [if you have the evidence]."

Maryam said a new front was opened against the Sharif family when "we took our case to the people's court".

"I ask them that when 60 judges were removed, where they took their case," she said, referring to the movement for restoration of judiciary during Pervez Musharraf's military rule

"If the custodians of the law take their case to the people, it is justified. But if the custodians of the people take their case to the people's court, it is regarded as contempt of court! I ask you how this can be justice. Who fought for the restoration of judiciary?" she asked.

"Judges should do justice… they should not become witnesses. Judges should do justice… they should not take revenge. Judges should become judges, not the rulers. According to the Constitution, after Allah, the power lies with the people of this country," she said.

The deposed PM's daughter said that despite the court decisions and the victimisation of Sharif, the PML-N had been strengthened. She appealed to the people to open social media accounts and support Sharif on Facebook and Twitter.

On the occasion, she donated a gold tiara, gifted to her by the local party leadership, to a charity working for the orphans.
COMMENTS
Comments are moderated and generally will be posted if they are on-topic and not abusive.
For more information, please see our Comments FAQ