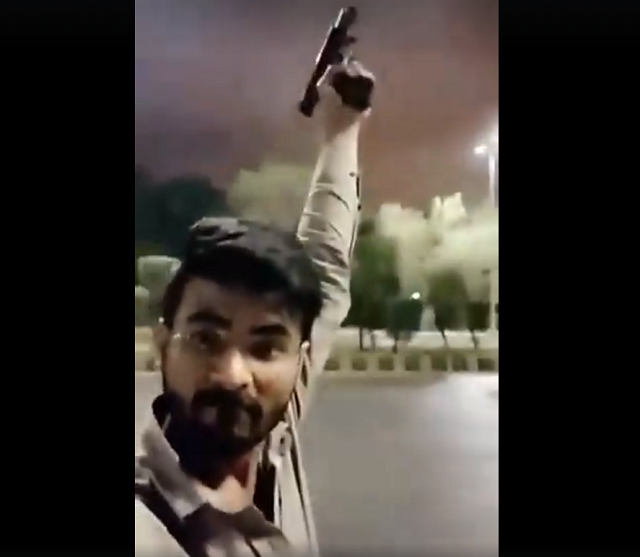 ---
A viral video making rounds on social media shows a young man on Karachi's main artery Shahrae Faisal road firing in the air early morning, threatening 'anyone' who would come to challenge him.

The youth, Adnan Pasha, as he names himself in the video, is seen hurling a pistol as he sways his camera on the main road to prove that he is indeed on Karachi's most traveled route. He then goes on to hurl abuses and curses and then fires two aerial shots.

According to sources, Pasha owns a rent-a-car company, and all the abuses are curses are directed towards friend Shani who Pasha had a spat with earlier that night.

At least 24 injured in Karachi due to celebratory firing on New Year

Sindh's Home Minister Sohail Anwar Siyal and Inspector General Sindh (IG) Allah Dino Khawaja took notice of the incident. A report has been sought by the home minister. IG Sindh has directed the Additional IG to solve the matter at its earliest and apprehend the culprit.

The video, recorded on social media app Snapchat, surfaced on Saturday morning. Multiple Facebook profiles under the name of "Adnan Pasha" show a young man strikingly similar to the man in the video as the owner and creator of Facebook group "Speed Chasers".

On January 1, more than two dozen people were injured in the aerial firing in the wee hours of the New Year. Bursts of gunfire and salvos of cracker booms filled the air of Karachi at the stroke of midnight as the mega city welcomed the New Year.