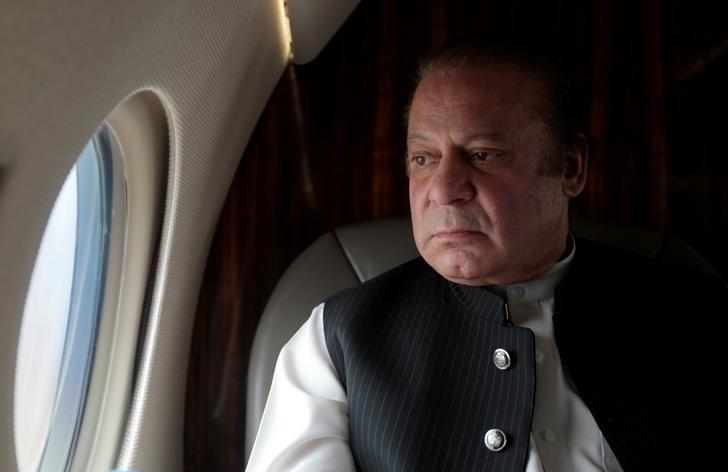 ---
ISLAMABAD: Deposed Prime Minister Nawaz Sharif said on Friday that the Supreme Court's judgment, disqualifying him from being head of the Pakistan Muslim League-Nawaz (PML-N), was tantamount to "pre-election rigging" in a "non-martial law era."

The ousted PM said the SC judgment has deprived the largest political party from participating in the Senate elections and such a judgment has come for the first time in a non-martial law period.

He was speaking outside the accountability court where he is being tried in connection with three interim and three supplementary references filed by the National Accountability Bureau (NAB).

Once again, the three-time ex-PM hinted that court's next move would be to kick him out of politics by disqualifying him for a lifetime. He questioned whether such judgments will be written in golden words, adding there are several examples in which judgments could be treated as black chapters.

He left it to the people to decide whether the recent judgments should be written in golden words or otherwise. In his talk, Sharif said, it was a matter of concern for the nation that the apex court removed a prime minister over an 'Iqama' and then disqualified him from heading a political party.

"I am very clear, you must remember that the upcoming decision will disqualify me for life and would deprive me of contesting the general elections," he claimed. In addition, he said that first judges use words like 'godfather', 'Sicilian mafia', or 'thieves and robbers', and then give explanations that they respect politicians.

People are fighting my case: Nawaz Sharif

Sharif said that Pakistan's judicial history was marred with such decision and since the period of Justice Munir – the former chief justice who introduced the doctrine of necessity to legitimise the dictatorial regime of General Ayub Khan – and there was not a single verdict which could be written in golden words.

Commenting on the statement of forensics specialist Robert W Radley, Sharif said that Radley himself admitted to using Calibri font in 2005. He said that Radley was not an IT expert but he was also using Calibri font two years before its official launch in 2007.

Meanwhile, defence counsel Khawaja Haris and Amjad Pervaiz continued cross-examination of Radley during the marathon eight-hour long hearing on Friday. Radley admitted that an operator having sufficient knowledge of IT could download the pre-release Windows Vista Beta-1 version, which had Calibri font embedded.

He admitted that the creator of Calibri font "Lucas De Groot had been given an award by the TDC (Type Director Club) competitions in the year 2005 for the design of the Calibri font."

Foreign witness is JIT head's cousin

Akhtar Riaz Raja of Quist Solicitors, London admitted before the court that he is a first cousin of Joint Investigation Team (JIT) head Wajid Zia. He was recording his statement and being cross-examined in the supplementary reference pertaining to Avenfield Properties.

The owner of the UK-based law firm said he had congratulated Zia on becoming head of the JIT via text message and that was their first contact, adding that later, the JIT as a whole decided to engage him as a solicitor in line with UK laws.

Raja said the purpose of his engagement was to review documents and the issues emanating from the documents. In addition, he said that he and his family were not activists of any political party in Pakistan. He also confirmed that he has an active Facebook account.

Following his testimony, Accountability Court Judge Muhammad Bashir summoned JIT head Wajid Zia on March 2.

 NAB prosecutor disruption

NAB Deputy Prosecutor General Sardar Muzaffar Abbasi, who was sitting with the witnesses in the Pakistani High Commission in London as an observer, continued to ignore the judge's instructions to remain silent and ultimately used a harsh tone with Haris, when he raised an objection over his frequent input.

After Abbasi misbehaved with Haris and ignored repeated instructions from the bench not to interfere as he could only monitor the proceedings and could not participate, Judge Bashir angrily asked him, "What exactly do you want?"

"Why don't you let us proceed," the judge remarked, before asking if he wanted the court to stop proceedings. Haris accused the NAB official of 'manipulating' the witness and meeting them ahead of recording of testimony.
COMMENTS (1)
Comments are moderated and generally will be posted if they are on-topic and not abusive.
For more information, please see our Comments FAQ