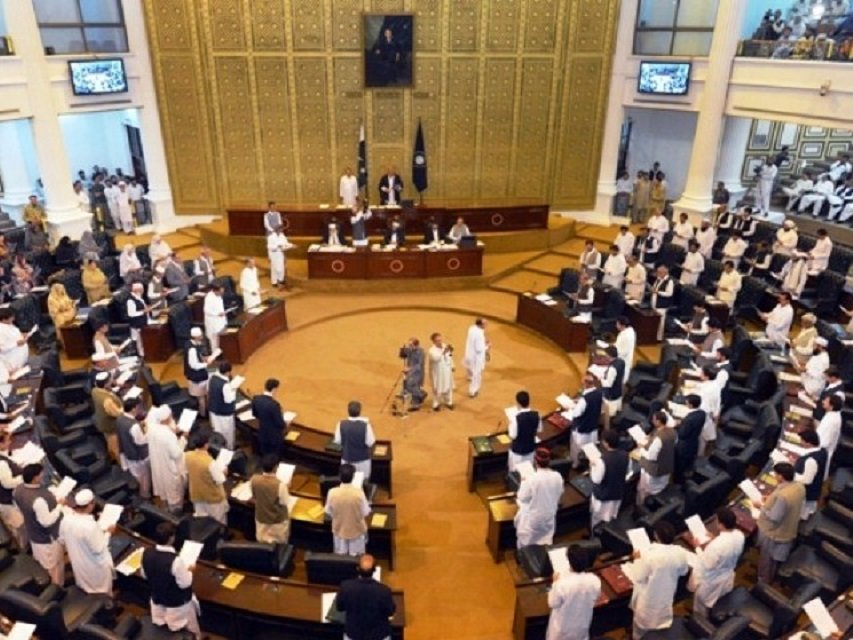 ---
PESHAWAR: The provincial legislature erupted in protest on Friday after the deputy speaker resorted to a controversial move.

As the session got underway late on Friday afternoon, the Khyber-Pakhtunkhwa (K-P) Public Procurement Regulatory Authority (Amendment) Bill 2018 was presented.

K-P Finance Minister Muzaffar Said wanted to pass the bill quickly.

However, with it being a Friday, few lawmakers from the ruling Pakistan Tehreek-e-Insaf (PTI) and the Jamaat-e-Islami (JI) showed up. They were outnumbered by members from the opposition benches such as the Pakistan Muslim League-Nawaz (PML-N) and the Awami National Party (ANP) in the assembly.

Pakistan Peoples Party (PPP) lawmaker Fakhr Azam Wazir wanted an amendment in the bill to include timeframes for addressing grievances.

The finance minister, though, was in no mood for any delays.

Wazir argued that unless a timeframe is not included in the law for the redressal mechanism, the aggrieved party would suffer for an indefinite period since the new amendment bars courts or any other authority from intervening in the matter.

The finance minister and the PPP lawmaker went back and forth on their respective arguments for a couple of rounds. But neither was willing to budge from their respective stances.

At the time, as many as 18 lawmakers from the treasury benches were present in the house. The opposition, though, had 20 members.

Any move by the government then to vote on the bill would have been easily defeated.

Cognisant of their numerical advantage, the opposition demanded that the bill should be presented on the floor for voting.

Said and other government members, who were enthusiastic about passing the bill when the session began, suddenly became reluctant.

At this, K-P Minister for Higher Education Mushtaq Ghani came up with a possible solution for the government. He suggested that bill should be sent to the select committee for a detailed discussion on it.

The opposition, unwilling to let its advantage slip, rejected Ghani's suggestion and insisted that the bill is voted on.

To save the government from certain embarrassment, Deputy Speaker Dr Mehar Taj Roghani took the unprecedented step of sending the bill to the select committee.

"Under the rules, Dr Roghani was supposed to allow a vote on the bill — whether it should be passed or sent to the select committee for further deliberation — but she did not do so," Wazir told media after the sitting ended.

Dr Roghani's announcement infuriated the opposition benches who erupted in protest and walked out — just 22 minutes after the session began.

The opposition members loudly boasted of their 'victory' over the government. Ghani shouted back that the opposition's protest was nothing more than attention-seeking-behaviour to get some headlines.

The incomplete quorum was pointed out, after which Dr Roghani adjourned the sitting.

Published in The Express Tribune, February 24th, 2018.
COMMENTS
Comments are moderated and generally will be posted if they are on-topic and not abusive.
For more information, please see our Comments FAQ