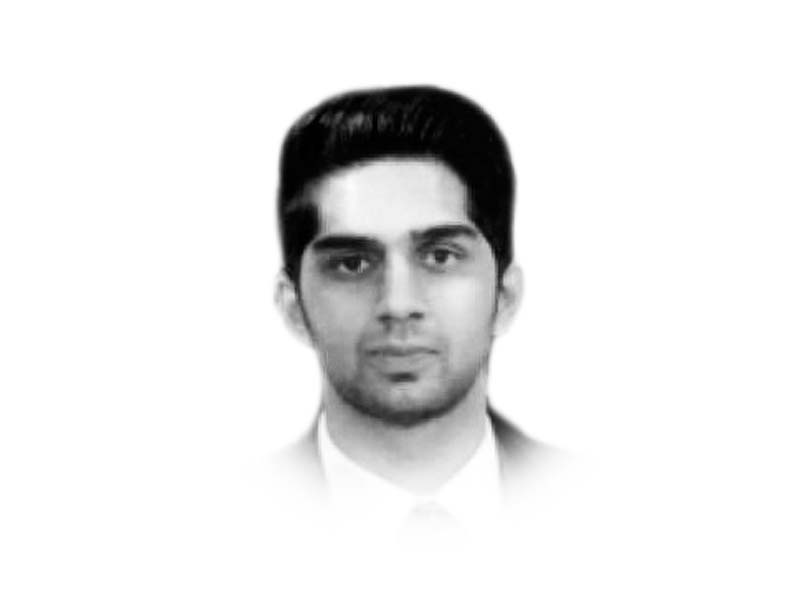 ---
The winds are slowly picking up. The door is barely holding with each passing gust. There's a cluster at the entrance, frantically trying to keep everything together.

Just three days ago, the Supreme Court caused a storm when it handed down a verdict wherein it was held that disqualified persons, under Articles 62 and 63 of the Constitution were ineligible to head political parties. The ruling party's official response to the ruling has been to call it "contrary to the basic principles of justice", whilst terming it a person-specific ruling.

The controversy principally stems from a long over-due reform of election laws. Initially, a draft bill of the Elections Act of 2017 contained a clause in Section 203 of the Act, which barred disqualified persons from holding office as heads of political parties. This clause, however, was later omitted in a parliamentary session. The amended bill was subsequently bulldozed in the National Assembly in order for it to be passed as a law, ie, the Elections Act of 2017. A petition was then filed in the Supreme Court, which challenged the election law as it stood — a disqualified person could hold office as a party head.

By no stretch of imagination are Nawaz's diatribes against the judiciary justifiable. It's hard to comprehend the ruling party's rhetoric when, in order to accommodate a disqualified representative, legislative bills are amended on an overnight basis, assemblies are passed in sessions where attendance of parliamentarians is 'unusually' high and presidential assent is given within hours; person-specific laws will necessarily entail person-specific judgments.

Misimpressions of the apex court being vindictive, however, need to be dispelled. It is a fundamental doctrine that all laws passed by the legislature must not offend the provisions of the Constitution, which happens to be the ultimate law of the land. Superior courts across the globe have consistently struck down laws that are in contravention of the Constitution, and this has become a norm. Seen in that perspective, the criticism accorded to the Supreme Court's judgment is uncalled for.

The current text of Section 203 equips "every citizen" with the right to form, or be a member of a political party. The Supreme Court has lawfully worked around the legislature's omission of the clause — whereby disqualified persons may hold office as heads of political parties — by reading Section 203 of the Elections Act of 2017 in light of Articles 62 and 63 of the Constitution, the result being that all disqualified representatives are now disallowed from being heads of political parties.

Articles 62 and 63 encompass numerable grounds upon which elected representatives may be disqualified. These include, for example conviction by a court for dishonesty. Had the Supreme Court not read these constitutional provisions into Section 203 of the Elections Act of 2017, some of the legal absurdities that could possibly arise would be the head of a political party being a tax evader, a convicted criminal or even a person who had treasonously "worked against the integrity of the country". In the background of this context, it needs to be recognised that the head of a political party is charged with important tasks that have a measurable bearing on the electoral process. For example, election tickets for lower and upper houses of parliament are usually approved by party heads.

It is no wonder then that Justice Ijazul Ahsan remarked that a disqualified individual could gather 10 people, form a party and then use them to further his nefarious agenda. The same query was raised by Indian Chief Justice Misra, who questioned how a convicted person could continue to be an office-bearer of a political party. Enabling a disqualified person to head a political party allows one to do indirectly what cannot otherwise be done directly. Qualified persons should not be controlled and led by disqualified persons. This would simply corrupt and frustrate the entire election process.

Pakistan's electoral laws have always resonated with tunes of anti-corruption and accountability whose purpose have been to, directly or indirectly, cleanse the electoral process. For example, Articles 62 and 63 of the Constitution: the Representation of People's Act of 1976 (now repealed) and the National Accountability Ordinance, all lay a special emphasis on the answerability of public office holders. It is our misfortune that a large portion of society is pre-occupied with defending the parliament's decision of enacting a person-specific law. This is an unfortunate testament to how we disgracefully trump morally enshrined notions of transparency, accountability and honesty, which should, in any other democracy, govern civil society.

Perhaps we should let the storm through the door, only for us to build it back, sincerely and stronger this time.

Published in The Express Tribune, February 24th, 2018.

Like Opinion & Editorial on Facebook, follow @ETOpEd on Twitter to receive all updates on all our daily pieces.
COMMENTS
Comments are moderated and generally will be posted if they are on-topic and not abusive.
For more information, please see our Comments FAQ