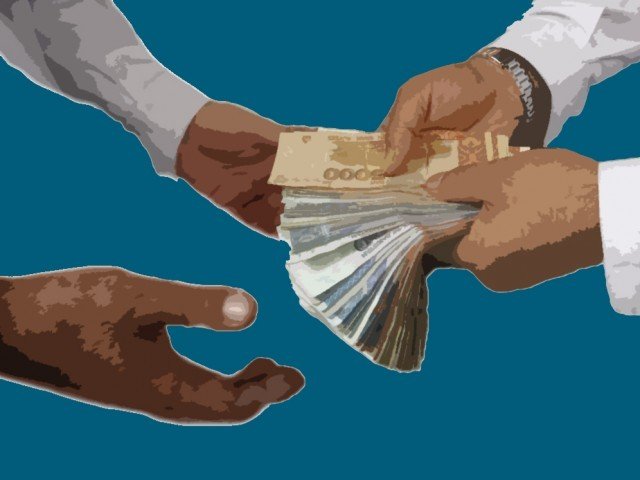 ---
KARACHI: Pakistan is ranked abysmally low on the global Corruption Perceptions Index (CPI) 2017 and the country is making little or no progress towards tackling the menace of financial misconduct, according to Transparency International (TI).

The composite index has ranked Pakistan 117th out of a total of 180 nations worldwide based on the level of perceived public sector corruption.

The country has failed to improve on a CPI 2016 score of 32, and has instead dropped down on the global list, from 116 to 117, according to data released by the non-profit organisation.

CPI uses a scale of 0 to 100 to rank nations, where 0 is highly corrupt and 100 is very clean.

Shehbaz says TI report reaffirms govt's policies

The score of Pakistan is well below the CPI average of 43 for the year 2017, but compares favourably to most of the other countries on the list, as more than two-thirds of them have scored 50 or less on the CPI scale.

Published annually by TI, an international non-government organisation (NGO) working to combat global corruption, the Corruption Perceptions Index ranks countries and territories based on how corrupt their public sector is perceived to be.

Reflecting the views of neutral observers from around the world, it draws on corruption related data, mostly a combination of surveys and polls from around the world, which is collected by several reputable international institutions.

The overarching conclusions drawn by the non-profit group this year reveal that "the majority of countries are making little or no progress in ending corruption, while further analysis shows journalists and activists in corrupt countries risking their lives every day in an effort to speak out".

In its 2017 assessment, TI laments that compared to recent years, the poor performance of state governments on the CPI index is "nothing new".

Regional analysis

Pakistan is ranked below neighbours India and China this year, but above Afghanistan and Iran. Placed in the Asia-Pacific category, CPI scores have highlighted the wide disparity in public sector corruption across the region.

For example, Asia-Pacific is home to top scoring countries like New Zealand and Singapore, as well as lowest ranked ones like Cambodia, Afghanistan and North Korea.

35 per cent Pakistanis believe corruption has increased: Transparency International

In fact, New Zealand has topped CPI rankings for the second year running, despite scoring 89, a one point drop from its 2016 score of 90.

On average, the region scores just 44, which, according to TI, "reflects a deep-rooted, systemic corruption problem, the Asia Pacific countries, on average, are failing".

India, China, Afghanistan and Iran

India is ranked 81 on CPI, tied with African nation Ghana, with an accumulated score of 40. Like Pakistan, the sub-continental country has failed to improve on its 2016 score, slipping two places in the CPI rankings. However, TI singles out the Hindu-majority country, contending that India is among "the worst regional corruption offenders, scoring high for corruption and having fewer press freedoms and higher numbers of journalist deaths".

China does not fare much better, scoring 41 on the CPI scale, and is ranked 77th on the list. The emerging world power has slightly improved on its 2016 CPI performance, moving up one place in the rankings compared to 2016. According to Transparency International, "civil society organisations in countries like China are permanently under threat from authorities".

Afghanistan is ranked fourth from bottom, at 177 out of 180, with a score of 15. The war-torn nation, like the majority of others, could not top its 2016 score. Interestingly, Afghanistan has dropped eight places, it was ranked 169th in 2016, as other nations have improved their scores. The NGO notes that although the country "rates very low on the index, its score increased by seven points in the last six years, moving from 8 in 2012 to 15 in 2016 and 2017. This may be attributed to some initial efforts nationwide to improve key policies, including better regulation of national procurement activities".

Iran is ranked several places below Pakistan at 130, scoring 30 out of 100 on the TI list. Compared to the previous year, Iran has both improved its score by one point, and jumped a place in the annual list.

Worldwide trends

The CPI lists for 2017 show that New Zealand and Denmark rank highest with scores of 89 and 88 respectively. Syria, South Sudan and Somalia rank lowest with scores of 14, 12 and 9 respectively.

The best performing region in the world, according to TI, was Western Europe, with an average score of 66. The worst performing regions was Sub-Saharan Africa (average score 32) and Eastern Europe and Central Asia (average score 34).

Since 2012, several countries have significantly improved their index score, including Côte d'Ivoire, Senegal and the United Kingdom, while several countries decline, including Syria, Yemen and Australia.

Corrupt channels work with impunity in country

Analysis of CPI data by anti-corruption experts indicate that countries with the least protection for press and non-governmental organisations also tend to have the worst rates of corruption.

Every week at least one journalist is killed in a country that is highly corrupt, the TI publication has highlighted.

Transparency International recommendations 

"No activist or reporter should have to fear for their lives when speaking out against corruption. Given current crackdowns on both civil society and the media worldwide, we need to do more to protect those who speak up," says Managing Director Transparency International Patricia Moreira, according to the official website of the non-profit group.

As part of its policy advise on tackling corruption to state governments all over the globe, TI has stressed that independent activists and media organisations are vital to combatting the widespread malice.

It has called on the community of nations to encourage free speech, independent media, and political dissent for promoting an engaged and open civil society. In accordance with this, governments have been pressed to ensure a safe working environment for journalists, and for passing laws which improve access to information.
COMMENTS (3)
Comments are moderated and generally will be posted if they are on-topic and not abusive.
For more information, please see our Comments FAQ