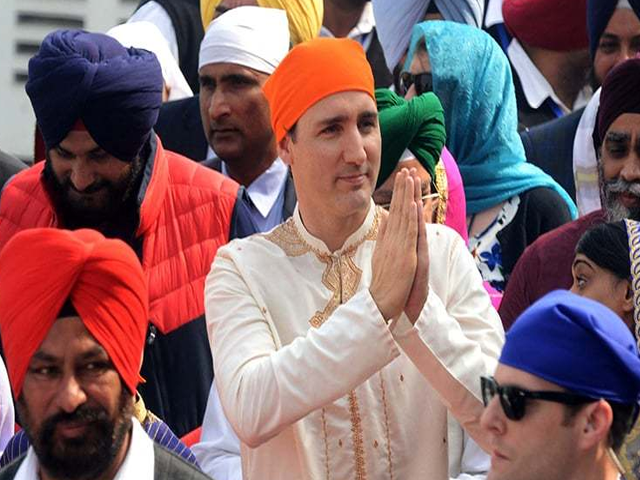 ---
NEW DELHI: Canadian Prime Minister Justin Trudeau admitted on Thursday that a convicted Sikh extremist had been invited to dine with him in New Delhi, just the latest controversy to dog his visit to India.

Trudeau said the invitation to Jaspal Atwal who was found guilty of trying to assassinate an Indian minister in 1986 had been revoked and those at fault had taken responsibility.

"Obviously, we take this situation extremely seriously," he told reporters in New Delhi.

"The individual in question never should have received an invitation and as soon as we found out we rescinded the invitation immediately."

Trudeau has been at pains during his visit to quash long simmering perceptions in India that his administration is soft on Sikh extremists.

This latest scandal emerges on the eve of his meeting with Prime Minister Narendra Modi, who has been notably absent during Trudeau's week-long trip throughout India with his family.

Atwal was convicted for a botched assassination attempt on an Indian cabinet minister in Canada in 1986 and was sentenced to 20 years by a Canadian court.

He reportedly attended an event in Mumbai on Tuesday, where he was photographed alongside Trudeau's wife Sophie Gregoire, according to Canada's public broadcaster CBC.

Canada does not back separatists, PM Trudeau tells India

The Canadian High Commission would not comment on whether Atwal was part of Trudeau's official delegation, although reports in Canada said Trudeau's office had denied this.

"We do not comment on matters relating to the PM's security," the high commission said.

Trudeau, who is accompanied by several Sikh members of his cabinet, said the "member of parliament who included this individual" had taken responsibility for their actions.

Atwal was a member of the International Sikh Youth Federation, an organisation outlawed in India and Canada, among other places, that seeks an independent Sikh state of Khalistan.

India's foreign ministry said it was investigating how Atwal a Canadian passport holder of Indian origin managed to obtain a visa to travel to India.

Canada is home to roughly half a million Sikhs and Trudeau's administration has been accused of being too cosy with those agitating for a separate homeland in India's northern Punjab state.

Trudeau particularly riled New Delhi last year when he attended a parade in Canada at which Sikh militants were feted as heroes.

Tensions over the Khalistan issue have marred Trudeau's visit, and fuelled speculation the prime minister was being snubbed by his Indian hosts.

Justin Trudeau spotted with Bollywood titans SRK, Farhan Akhtar and more

But Modi late Thursday tweeted a welcome note for the visiting dignitary, posting a picture of him with Trudeau and his daughter Ella Grace from a meeting in 2015.

"I look forward to meeting PM @JustinTrudeau tomorrow and holding talks on further strengthening India-Canada relations in all spheres," he said in a tweet ahead of Friday's formal meeting between  he two premiers.

Critics had cited Modi's grand gesture of personally receiving several visiting heads of government at the airport with bear hugs and cheerful photo-ops, compared to a junior minister who was rolled out to meet Trudeau and his family on Saturday evening.

Government officials greeted the Trudeaus at the Taj Mahal and in Modi's home state of Gujarat, where Israeli Prime Minister Benjamin Netanyahu was last month personally escorted by the Indian leader.

Trudeau on Wednesday visited the Golden Temple in Amritsar the holiest shrine in Sikhism before assuring Punjab's chief minister that Canada did not sympathise with extremist movements.