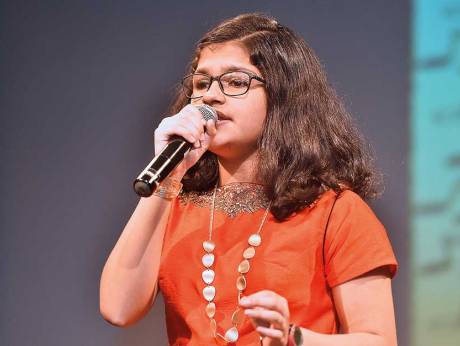 ---
A 12-year-old Indian girl managed to break two world records after singing in 102 different languages during a concert that went on for 6 hours and 15 minutes in Dubai.

Suchetha Satish is a seventh grade student at the Indian High School in Dubai. She learned to sing songs in 80 languages in just over a year and kept learning more languages as well.

She began learning Karnatic music at the age of four, as she belongs to a family of music lovers. The talented girl was already studying Hindi-based music but started to understand foreign languages in late 2016.

According to the Guinness World Records, Dr Kesiraju Srinivas, holds the current record for singing in 76 languages at the Gandhi Hills, Andhra Pradesh, India on June 2-3, 2008.

Indian singer 'Ghazal Srinivas' arrested for sexually harassing female radio jockey

She shocked and surprised the audience in a concert that took place on January 25 at the Indian Consulate in Dubai.

"My first song in a foreign language was in Japanese," Suchetha told Gulf News, in November 2017. "My father's friend, a Japanese dermatologist, came to Dubai a year ago. When she came home, she sang a Japanese song. I liked it very much and learnt it."

Since she was studying in Dubai, she started learning Arabic songs, followed by Tagalog.




She began learning new songs in new languages every single week and as she shifted towards double digits, she believed a world record was definitely possible.

"Usually I take around two hours to learn a song. If it is easy to pronounce, I can learn it fast. If it is not a lengthy song, I can finish in half an hour," Suchetha said.

Record-breaking nine-hour rainbow appears in Taiwan

Songs in French, Hungarian, and German were apparently the most difficult to master, taking Suchetha about two days each. Her favorite songs are the ones in Maori, Armenian and Slovakian.

Thus, she set a new Guinness record for singing in the most different language during a concert and for the longest live concert performed by a child, a record held by Romanian Andra Gogan, for a 3 hour and 20 minutes performance.

The following are the list of languages Suchetha Satish sang during her world record performance: Maithili, Sanskrit, Afrikaans, Albanian, Assamese, Azerbaijani, Badaga, Balochi, Basque, Belarusian, Bengali, Bhojpuri, Bhutanese, Bulgarian, Cantonese, Croatian, Czech, Danish, Dhivehi, Dogri, Dutch, English, Estonian, Finnish, French, Garhwali, Georgian, German, Greek, Guarani, Gujarati, Haryanvi, Hebrew, Hungarian, Irish, Javanese, Kannada, Kashmiri, Kazakh, Khmer, Kinyarwanda, Kokborok, Konkani, Korean, Kyrgyz, Lithuanian, Macedonian, Malagasy, Malay, Maltese, Mandarin, Mongolian, Manipuri, Maori, Marathi, Nepali, Norwegian, Odia, Persian, Polish, Punjabi, Quechua, Rajasthani, Romanian, Russian, Serbian, Sindhi, Sinhalese, Slovak, Slovenian, Somali, Swahili, Swedish, Tagalog, Tajiki, Tamil, Thai, Tibetan, Tulu, Ukrainian, Urdu, Uzbek, Vietnamese, Welsh, Xhosa, Yakut, Yoruba, Zulu, Italian, Japanese, Icelandic, Kurdish, Madurese, Pashto, Latvian, Turkish, Armenian, Spanish, Portugese, Malayalam, Arabic, Hindi.



This article originally appeared on The Gulf.
COMMENTS (1)
Comments are moderated and generally will be posted if they are on-topic and not abusive.
For more information, please see our Comments FAQ