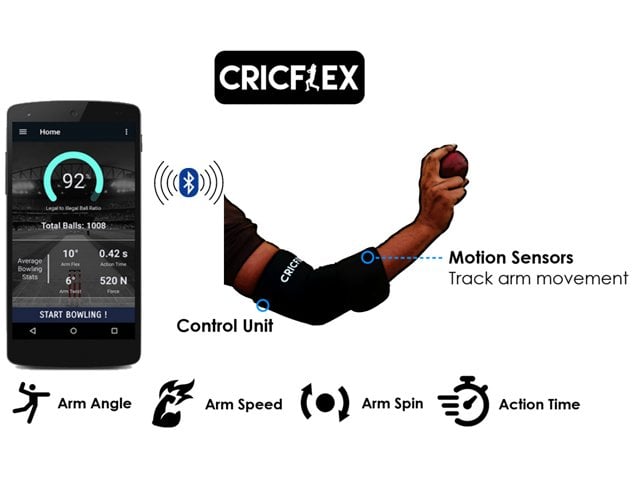 ---
KARACHI: Suspect bowling actions are a scourge for Pakistan and the country has suffered from it perhaps more than any other in the world. The lack of proper resources and facilities mean it is often well into a player's career before he is flagged for an illegal action. By that time, it is often too late and any change in action is almost certain to result in a drastic reduction in quality.

But three young electrical engineers from Islamabad offer hope. And this hope comes in the form of an arm band called 'CricFlex'.

Since the country lost off-spinner Saeed Ajmal to a faulty action, a total of 29 players have been reported for illegal actions in the domestic circuit. 16 of them have been banned. Somewhere at the National University of Science and Technology, three students took it upon themselves to fix this.

"We had to submit a project and Ajmal's ban was all over the news," said Abdullah Ahmed, CricFlex's team leader. "We decided to develop a wearable band with motion sensors and published a research paper on it, before working on the design."

Abdullah, along with his partners Muhammad Asawal and Waqas Ahmed, knew that the band's design and products are crucial.

"We wanted to make an accurate band that is convenient and comfortable enough for a bowler to wear while playing without affecting his performance," said Abdullah. "After taking suggestions from various experts, we came to the conclusion that we should use three motion sensors; one near the wrist, one at the forearm and the third near the elbow."




The band, which has an accompanying android app, customises itself for the user. "Each bowler wears the sleeve and then holds his arm in three positions: stretched out straight, bent at 45 degrees and then bent at 90 degrees; this allows the device to calibrate itself according to that particular bowler," added Abdullah. "The app not only shows the bend in his arm but also the force applied and the speed at which it is released. The app instantly lets the bowler know if the delivery is legal or not."

The team claims the band has been used to great results so far. "We used this at a local Islamabad academy and the players were amazed by the results," said Abdullah. "As many as 20% of the bowlers had illegal actions, so by the end of the session they knew they needed to work on that."

The band, if proven to be as accurate as the equipment used in biomechanics lab, can prove to be a cheaper and better alternative. "Biomechanics labs take up to 21 days to provide results and cost a lot more," said Abdullah. "The CricFlex, on the other hand, costs around $300, and can be made within 30 minutes. We have received pre-orders from all over the world and are targeting to deliver it to the mass public within three months."

'Received positive feedback from PCB'

The team revealed that they have also been in talks with the Pakistan Cricket Board (PCB) regarding the band and have received a positive response from them.

"We went to National Cricket Academy (NCA) director Mudassar Nazar," said Abdullah. "He tested it himself and was very impressed by it. He even took us to the biomechanics lab that the PCB has set up at LUMS but we were unable to corroborate the results since that is not in real time and also because a bowler can't wear both equipment at the same time."

The team is also hopeful that the likes of all-rounder Muhammad Hafeez, who can no longer bowl in International Cricket Council events, uses the band during the Pakistan Super League to keep a check on his action.