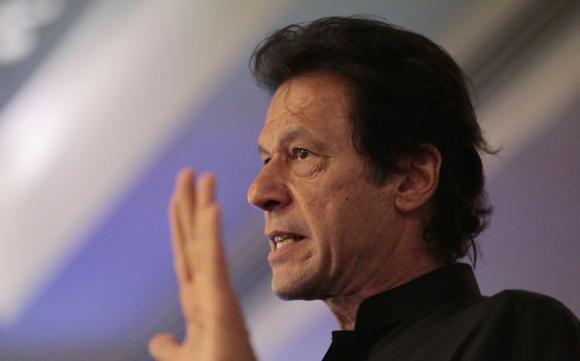 ---
LAHORE: Pakistan Tehreek-e-Insaf (PTI) Chairman Imran Khan has said that the ruling Pakistan Muslim League-Nawaz (PML-N) had secretly amended the Khatm-e-Nabuwat clause in a bid to appease foreign power.

"Nation is asking the ruling party as to why it amended the Khatm-e-Nabuwat clause in the election law secretly," the PTI chief said while addressing a Khatm-e-Nabuwat Conference at Aiwan-e-Iqbal on Thursday. A large number of PTI workers attended the conference. They chanted slogans, "Prime Minister Imran Khan."

The PTI chief said that clauses about the Finality of Prophethood of Holy Prophet (PBUH) were adopted in 1973 after a long deliberation of 23 days.

Khan said the ruling party had admitted its mistake of amending the Khatm-e-Nabuwat clause, adding that it constituted a committee under the leadership of Raja Zafarul Haq to ascertain as to who were responsible for the mistake.

He said the committee was mandated to submit its finding within 48 hours of its formation but the "report is still awaited".

The PTI chief believed that the ruling party had tried to amend Khatm-e-Nabuwat clause just to appease foreign powers but the "nation will not forget this grave mistake committed by the PML-N leadership".

"Now deposed premier Nawaz Sharif is trying to get support from the foreign lobby to save his skin," he added.

"It is no surprise that the top court disqualified Sharif from being the head of the party as he had been already been ousted as the prime minister," said Khan. "Neither any court nor the parliament allows a disqualified person to head a political party."

He said, "Sharif has to go."

He said that the ruling party had appointed corrupt officials like former Lahore Development Authority (LDA) director general Ahad Khan Cheema, at the helm of affairs.

Imran Khan ties the knot for a third time

"More corruption cases will surface against the ruling party's ministers as most of them are involved in looting the public exchequer," he said.

Khan said, "Sharif is crying since he was ousted as the prime minister over corruption charges."

He reiterated his claim that the ruling family had over Rs300 billion assets in foreign countries.

"Former premier's son, who was a student in 1999, lives in a house worth Rs6 billion," he said, adding that the ruling family could not prove in the court of law as to how they had earned these assets.

He said he was a cricketer and had earned all assets by playing cricket matches. "I have submitted 64 documents in court to prove legal ownership of assets that I own but the ruling party has not submitted a single document," he said.

Khan said that all members of the ruling party and their MNAs know that all those assets had been bought by looted money, "but they are lying".

"Former federal finance minister Ishaq Dar is on the run to avoid accountability," he added.

Responding to a question, the PTI chief said the Election Commission of Pakistan would decide the fate of the PML-N candidates, whether they could contest Senate elections as independent candidates or not.
COMMENTS (2)
Comments are moderated and generally will be posted if they are on-topic and not abusive.
For more information, please see our Comments FAQ