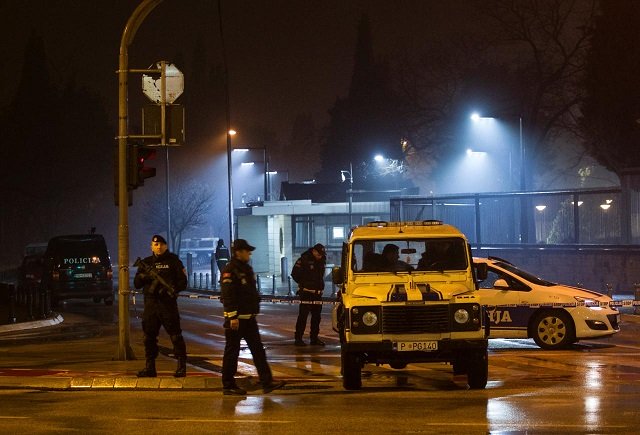 ---
BELGRADE: An unknown attacker threw an explosive device, probably a hand grenade, at the US embassy in the Montenegrin capital of Podgorica, before killing himself with another bomb, local police confirmed on Thursday.

The blasts broke out at 00:30 am local time (1130 GMT). "Immediately before the suicide, the person threw an explosive device into the compound of the embassy from an intersection near the sports center in Podgorica," the Montenegrin government quoted the police on its Twitter account.

Homeless 'hero' jailed for stealing from British bomb victims

It added that the explosive device was most likely a hand grenade. Police investigation and identification of the assailant are under way.

The US State Department said late Wednesday that the embassy has been conducting an internal review to confirm the safety of all staff, according to a tweet by US State Department Spokesperson Heather Nauert.

"At this time, Embassy officials are working closely with police to identify the assailant(s)," Nauert added in a second tweet.

The US Embassy in Podgorica warned US citizens of "an active security situation at the embassy" and to avoid the embassy "until further notice."

Growing anger after Kabul ambulance bomb kills nearly 100

Located in southeastern Europe, Montenegro has a coast on the Adriatic Sea to the southwest and borders Croatia, Bosnia and Herzegovina, as well as Albania.

The Balkan country declared independence on June 2006, after it separated itself from the Federal Republic of Yugoslavia, a federation it established with Serbia in 1992.

Last May, Montenegro joined the North Atlantic Treaty Organisation (NATO), causing large protests by the pro-Russian opposition and anti-NATO demonstrators.
COMMENTS
Comments are moderated and generally will be posted if they are on-topic and not abusive.
For more information, please see our Comments FAQ