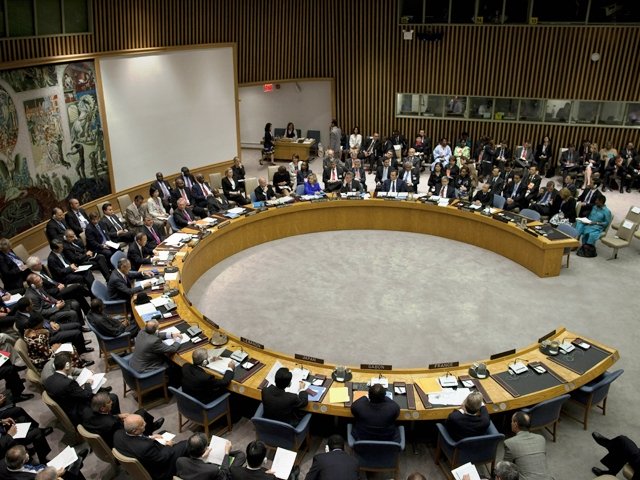 ---
UNITED NATIONS: The UN Security Council is expected to vote, probably on Thursday, on a draft resolution demanding a 30-day ceasefire in Syria to allow deliveries of humanitarian aid and medical evacuations, diplomats said.

Sweden and Kuwait, which drafted the measure, requested the vote "as soon as possible," the Swedish mission said on Wednesday, adding that it will likely be scheduled for Thursday.

It remained unclear whether Russia would resort to its veto to block the draft resolution.

The push for a vote came after UN Secretary-General Antonio Guterres called for a halt of the "war activities" in Eastern Ghouta, Syria's rebel enclave which has come under a fierce bombing campaign by government forces.

As the death toll from the airstrikes escalated sharply, Guterres said life for the 400,000 civilians of Eastern Ghouta had become "hell on earth".

Russia called for an urgent council meeting on Thursday to discuss the crisis in Eastern Ghouta which Ambassador Vassily Nebenzia described as a "complex situation."

UN Security Council to meet on Friday to discuss Iran protests

"There are terrorists there who the Syrian army is fighting and the terrorists are shelling Damascus," Nebenzia said.

"It's a complex situation and not just a one-way street," he said, according to remarks released by the Russian mission.

The draft resolution calls for the truce to go into effect 72 hours after the adoption of the measure and for aid deliveries and medical evacuations to begin 48 hours after that.

It demands the immediate lifting of all sieges including in Eastern Ghouta, Yarmouk, Foua and Kefraya and orders all sides to "cease depriving civilians of food and medicine indispensable to their survival."

In a concession to Russia, the draft was amended during tough-going negotiations last week to specify that the ceasefire does not apply to the Islamic State group or Al-Qaeda.

That would allow the Syrian government offensive to continue against Al-Qaeda-linked militants in Idlib, the last province in Syria outside the control of Damascus.

UN Security Council to inspect 'Iranian-made' missile debris

Some diplomats said they were hoping that Russia abstain, if it is unwilling to back the ceasefire.

Asked whether there was a consensus on the draft text, Swedish Ambassador Olof Skoog said: "That, I don't know yet."

Sweden and Kuwait presented the measure to the council on February 9, but negotiations have dragged on as Syrian forces backed by Russia escalated their fierce offensive.

Close to 300 civilians have been killed since Sunday in Eastern Ghouta including 24 Syrians who died when government planes dropped barrel bombs on the town of Kafr Batna on Wednesday, according to the Syrian Observatory for Human Rights.

More than 340,000 people have been killed and millions driven from the homes in the war, which next month enters its eighth year with no end in sight.

More than 13.1 million Syrians are in need of humanitarian aid, of whom 2.9 million live in besieged and hard-to-reach areas.
COMMENTS
Comments are moderated and generally will be posted if they are on-topic and not abusive.
For more information, please see our Comments FAQ