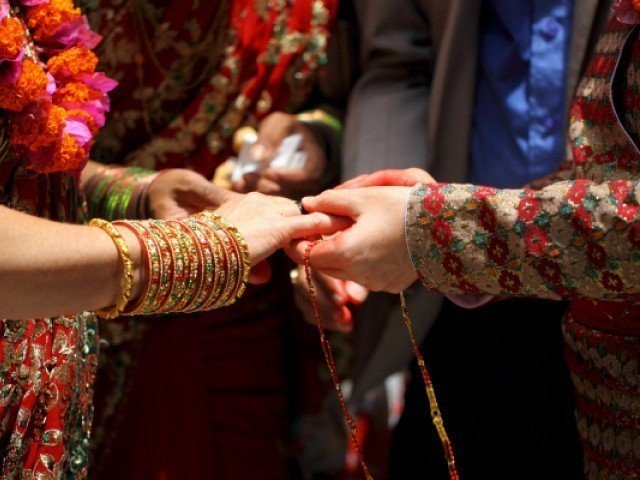 ---
PESHAWAR: In a bid to end the archaic practice of paying dowry, the provincial legislature on Wednesday passed a law banning the groom's family from demanding dowry from the bride's family. It made the offence punishable with up to two months in prison or a fine of at least Rs300,000 or both.

The bill, titled Khyber-Pakhtunkhwa Marriage Functions (Prohibition of Ostentatious Displays and Wasteful Expenses) Bill 2018, was presented by Jamaat-e-Islami (JI) lawmaker Rashida Riffat and was passed with a majority vote.

The law states that if anyone, either from the groom's family or on their behalf, asks or forces the bride's family to pay dowry in cash or as specific items, they shall be punished with imprisonment for a term not exceeding two months and fine of not less than Rs300,000 or both.

Moreover, it adds that action shall be taken only against the father of the groom or any other male member of the groom's family.

It restricts the aggregate value of gift — in cash or kind — given to the bride by her parents or any other family member to amount not exceeding Rs100,000.

Sindh govt discusses limitation on dowry

The law also imposes a ban on the decoration of houses, streets, roads or any other place, where the marriage ceremony is being conducted, with lights or illumination.

Firecrackers or other explosive devices used in marriages for fireworks have also been banned under this law along with putting restrictions on the use of loudspeaker during ceremonies.

It directs that the sound of the loudspeaker should be limited to indoor.

It states that during smaller engagements such as Mehndi, Nikkah or engagement, the family shall not serve or allow anyone to serve anything except beverages to participants.

It also defines a menu for wedding functions, limiting it to one dish of rice, one dish of gravy, one dry dish, bread, salad and sweet dish.

The ceremonies have been bound to culminate by 11 pm while owners or managers of marriage halls have been directed to ensure that all ceremonies conclude by then.

Marriage halls: SC dissatisfied with CDA report

Those failing to comply with these provisions can face punishment of a fine up to Rs200,000 or imprisonment not exceeding three months or both.

It further notes that bridal gifts given by the husband are the absolute property of the wife and cannot be snatched away. Violation of this provision would entail a penalty in the form of a fine of Rs200,000 and imprisonment of three months.

Complaints can also be registered to first class magistrates in writing by anyone who witnesses the ceremony.