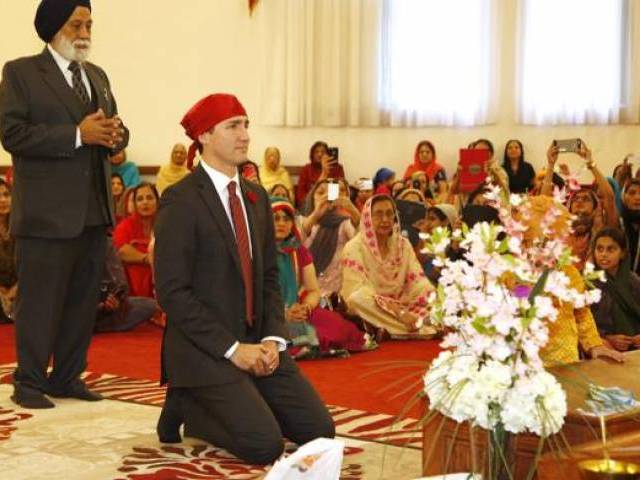 ---
AMRITSAR: Canadian Prime Minister Justin Trudeau on Wednesday sought to dispel perceptions his administration is too close to Sikh separatists, officials said, a controversy that has overshadowed his trip to India.

Trudeau's visit has been dogged by claims he has been snubbed by Prime Minister Narendra Modi, who has been notably absent since his Canadian counterpart touched down in India on Saturday evening.

Indian and Canadian media said Modi has sidestepped Trudeau over his administration's perceived support for Sikh separatists, who want a independent state of Khalistan carved out of Punjab.

Canada is home to roughly half a million Sikhs and Trudeau's administration has been accused of being too cosy with those who appear to back Sikh groups calling for independence.

Trudeau particularly riled New Delhi last year when he attended a parade in Canada at which Sikh militants were feted as heroes.

Canadians believe India is snubbing their premier

The prime minister on Wednesday visited the Golden Temple in Amritsar the holiest site in Sikhism, and the scene of a bloody showdown between Indian forces and Sikh militants in 1984.

He also met Punjab Chief Minister Amarinder Singh, who said Trudeau offered his "categorical assurance" that Canada did not sympathise the separatist movement.

"His words are a big relief to all of us here in India and we look forward to his government's support in tackling fringe separatist elements," Singh posted on Twitter alongside photos of him shaking hands with Trudeau's youngest son Hadrien.

Singh's spokesman Raveen Thukral said the chief minister handed Trudeau a list of Canada based Sikhs suspected of providing material support to separatists in Punjab, a border state in India's northwest.

Trudeau's defence minister Harjit Sajjan, a Sikh, also joined the meeting with the chief minister. Singh last year refused to meet him, describing Sajjan as a "Khalistani sympathiser".

Trudeau tours India amid quips PM being given 'cold shoulder'

There is speculation that Trudeau is being given the cold shoulder by New Delhi.

Modi often meets heads of government at the airport with bear hugs and cheerful photo-ops, but a junior minister was rolled out to meet Trudeau and his family.

District officials greeted the family at the Taj Mahal and in Modi's home state of Gujarat, where Israeli Prime Minister Benjamin Netanyahu was last month personally escorted by the Indian leader.

Modi, who has 40.4 million Twitter followers, has also yet to tweet a welcome message to Trudeau as is his custom for other leaders.

The nationalist Hindu premier shared a photo of him meeting Iranian President Hassan Rouhani the same day that Trudeau landed.

Modi and Trudeau are scheduled to meet on Friday in New Delhi.