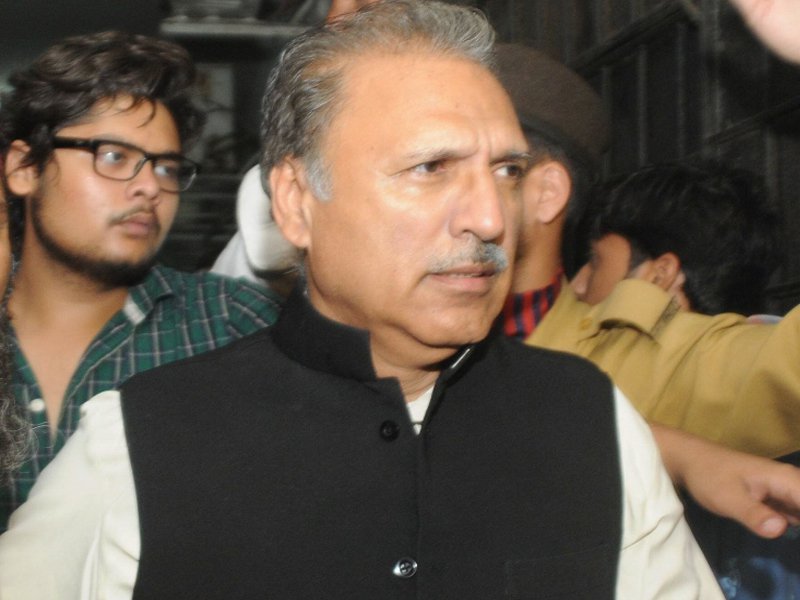 ---
KARACHI: The Pakistan Tehreek-e-Insaf (PTI) announced a tree plantation campaign for Karachi on Wednesday.

The party began an awareness activity for its Million Tree Tsunami project for the city. The PTI plans to replicate its Khyber-Pakhtunkhwa Billion Tree Tsunami project on a smaller scale in Karachi by distributing one million plant saplings to residents in different areas of the metropolis.

PTI Sindh President MNA Dr Arif Alvi, while leading the awareness activity in Altaf Town near Korangi Crossing, distributed hundreds of pamphlets to residents, bystanders and shopkeepers, which had the slogan 'Let's join to make Karachi green' along with a photo of party head Imran Khan.

The pamphlet also made an appeal to the city's residents to join the party in its plan to beautify Karachi. It also contained a manual for planting a sapling.

Meeting reviews plantation drive

The PTI focal person for the campaign in District Korangi, Arshad Kheshgi, told The Express Tribune that the drive will be launched on Sunday, February 25, when Dr Alvi will distribute saplings among the residents of Karachi. He added that the main ceremony will be held on March 15 when the PTI chairperson will distribute saplings among the residents.

According to Kheshgi, the saplings of moringa, gul-e-nashter, peepal, palm and bougainvillea will be distributed during the project. "Every Sunday, trucks loaded with 5,000 plants will supply free-of-cost saplings in all the six districts of Karachi," he said, adding that the campaign would be temporarily suspended after two months due to high temperature in the summer and it would resume in the month of October or November.

The promise to launch a plantation drive in Karachi had been made by the PTI chairperson while he was addressing an event at the Ramada Hotel during an earlier visit to the city. Imran had criticised successive governments for ruining the environment of Karachi.

Talking to the media, Dr Alvi, who reportedly came up with the idea of the project, maintained that the tree plantation project in K-P was a success story. He lamented that Sindh has been left barren as no substantial tree plantation campaign was launched in the province.

Go green: 130m trees will be planted in South Punjab: SPFC CEO

According to the World Health Organisation, air pollution had drastically increased in Karachi, Dr Alvi claimed. He added that heavy smoke in the city was also resulting in serious respiratory diseases.