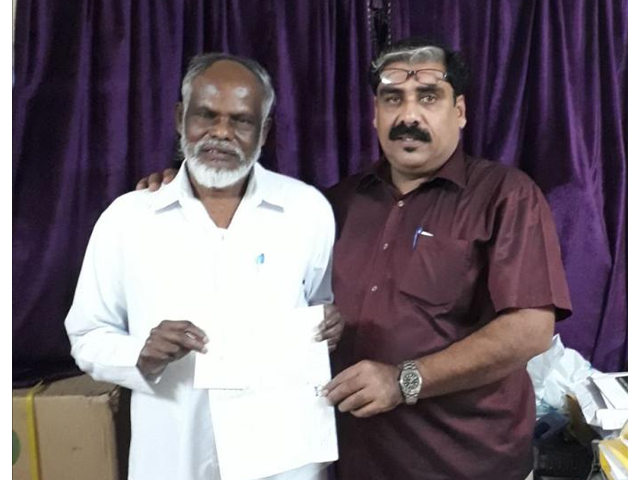 ---
An Indian father of four daughters has been working in Saudi Arabia for the last 25 years to provide his family 'a good life'.

Syed Said Mahboob who belongs to Bengaluru, a southern Indian state of Karnataka, didn't take a single vacation or travelled to home to see his family.

He couldn't see her daughters growing up. He left the family when the daughters were toddlers but now they are grown-ups. The bread-winner of the family has only heard his daughters' voice over the phone and saw them in photos.

"When I left India my youngest daughter, Waheeda Naaz, was only 3. Thank God, she is now 28 and working," Mahboob was quoted in the Saudi Gazette as saying.

He went on to say, "She [youngest daughter] barely remembers my face, except through photos. Now with the video chat facility, I can see her shedding tears while asking me to return home. She tells me not to worry about her marriage or dowry. As a working woman she is confident of contributing towards her wedding."

Dowry is practiced widely in India and is a huge reason for people to move to Gulf countries leaving their families in home country.

Indian woman's kidney stolen for not meeting dowry demands

Mahboob was 42 when he came to Saudi Arabia in 1992 and now he is 65. He started working as a tailor to earn money to get his his four daughters married also to afford their good education.

Daughters of Mahboob now urge him to come back home and not to worry about their marriages. His two daughters are working in the private sector while other two are married.

For years, Mahboob also worked at construction sites during the day as a daily wager to make sure the family gets a decent life.

The father of four did not build a house of his own in India as he kept education a priority for bright future of his daughters.

However, on persuasion he is ready to leave Saudi Arabia and meet his family with the help of a social worker Nass Shoukat Ali Vokkam.

The article originally appeared on Khaleej Times.