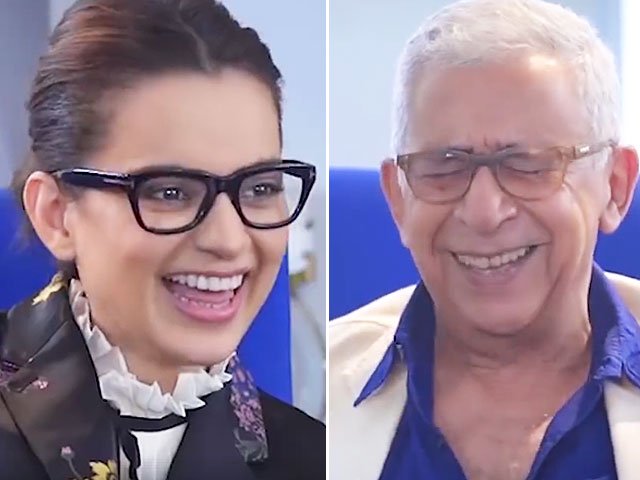 ---
Bollywood's veteran actor Naseeruddin Shah, who possesses countless thought-provoking roles under his belt, and critically acclaimed star Kangana Ranaut recently sat down to discuss their love-hate relationship with one of the world's most profitable industries.

In a recent episode of Film Companion's TapeCast, the actors weighed in on the pros and cons of the Indian film industry. Undoubtedly, the conversation was a rather intelligent and unbiased one. Both shared their unique opinions regarding the value system of the Indian cinema.

When asked about Shah's reservations regarding Bollywood, he cuttingly replied, "Do we have a few hours?", which left the Queen starlet in fits!

"If you asked, what I like, the answer would have been briefer," stated Shah. "I love the Hindi film industry! I think it caters to millions and millions and zillions of viewers everyday and entertain them with the most mindless of content. It is deadening minds which is very necessary. It is lowering tastes, which again, is very necessary. We have plagiarists, who are termed as acclaimed writers, which is a very good thing. We don't only have borrowed scripts from Hollywood, we have also, when the poster design comes around, there's a guy who turns up with an album of Hollywood film posters, and says, 'We'll do this from this one, and this from this one."

To this, Ranaut adds, "When I was in the US, learning script-writing, we had a class of copyrights, and how to make your contracts for writers and all that. There is one entire session for Indians, on how Indians are notorious for selling your material. So, you have to have a code, because they sell your material without your permission and you might just stumble across a film which actually is your film!"

"It's quite astounding," confessed Shah to the starlet's statement.

"It's so embarrassing!" added Ranaut.

Dishing on what the Tanu Weds Manu actor doesn't like about the Indian cinema, Ranaut revealed her hangups over jumping the bandwagon mindset. She elaborated saying that if something works in a movie, it become the 'IT' trend of Bollywood.

"I've had people come in to auditions and narrate my own movie, (Queen) to me, suggesting that we make a movie on it. And I'm like, 'Are you guys realising it's the same film?'" asserted Ranaut.

"Bollywood has a problem of following things blindly," she continued.

"It's complete indolence and laziness in my opinion," said the Ghalib actor. "How many film-makers in Bombay bother to produce something original? Remaking this and remaking that! At least now they're admitting it!"

"Earlier, we were giving a video cassette of The Godfather. And I'd be like, 'Why are you giving me this? I've seen The Godfather. To which, they used to say, 'Let's make something like this but with a twist!'" he went on to add.

"I was handed over the cassette of Mughal-e-Azam the next week. I asked them, 'What is this?' And I was told, "We will combine the two!'" smirked Shah.

"Godfather and Mughal-e-Azam!" repeated Shah as they both laughed.

"This one time, I was shooting a movie, in which I had to re-shoot a scene because one of the characters who was in that shot was supposedly dead in the movie by the time that scene was supposed to come in the movie! The fun part is, the writer of the movie was applauding the shot after it was done," reminisced Shah.

"That's how clueless we are!" added Shah.

"These are some of the reasons I completely love the Bombay film industry!" concluded Shah.

Do we have something to add? Not really. Shah and Ranaut nailed it right on target!

Have something to add to the story? Share it in the comments below.