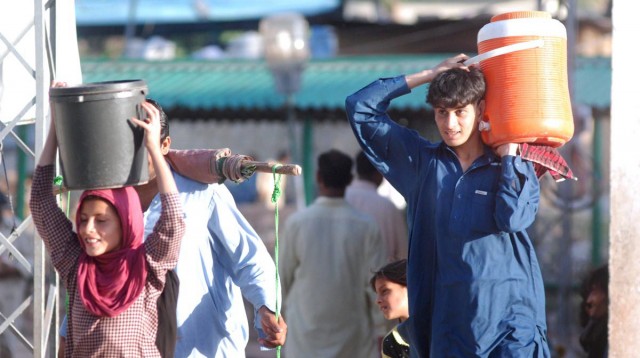 ---
KARACHI: The city will be provided 1,200 cusecs of water under a new project, said the chairman of the senate standing committee for the local government and rural development, Khalid Mehmood Soomro.

The committee met on Wednesday to discuss the water shortage in the city. "Water shortage in Karachi is a grave issue," said Soomro, as he gave a briefing on the water project. He said that people in the city should be given clean drinking water and the issue was one that deserved to be discussed in Parliament. Deputy Managing Director Misbahud Din Faridain said that the federal government had expressed reservations over the Karachi water project because of low water levels in River Indus. Faridain said he will take the president and the prime minister into confidence over this project.

He complained that interviews for vacant positions of union council secretaries were held a year ago but the results have not been announced yet. 'Clean drinking water to avoid diseases' Sindh Minister for Health Dr Sagheer Ahmed instructed all EDOs Health to maintain liaison with their respective local government institutions to ensure the provision of clean drinking water, as contaminated water is the main cause of gastroenteritis and diarrhoea.

PPI reported that directives were issued on Wednesday in which he ordered EDOs Health and medical superintendents to ensure the availability of all required medicines for timely treatment of gastroenteritis and diarrhoea patients. He said that with the increase in temperature, there has been a considerable increase in the number of cases of gastroenteritis and diarrhoea. The majority of these cases include children which is quite alarming, he added. Dr Ahmed also ordered the director-general health to establish a Central Control Room to monitor the situation and ensure treatment of all gastro and diarrhoea patients.

The health minister asked parents to ensure consumption of boiled water to protect their children and asked them to give their children Oral Rehydration Salts (ORS) to maintain the required levels of minerals. He directed all EDOs to constitute mobile teams for treatment.

Published in the Express Tribune, May 27th, 2010.
COMMENTS
Comments are moderated and generally will be posted if they are on-topic and not abusive.
For more information, please see our Comments FAQ