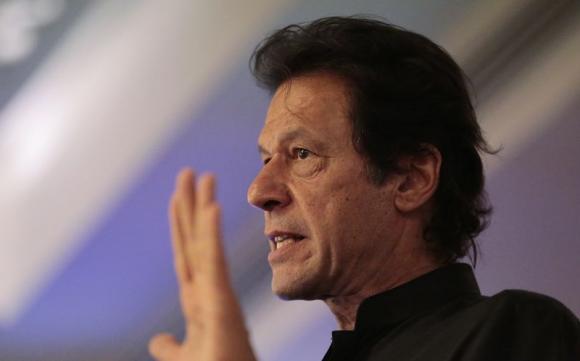 ---
PESHAWAR: Pakistan Tehreek-e-Insaf (PTI) Chairman Imran Khan on Tuesday warned that his party would take to the streets to support the judiciary if the Pakistan Muslim League-Nawaz (PML-N) did not stop maligning it.

"Parliament is being used to slander the judiciary. If it continues, I will take out my people on roads in support of judiciary," Imran said while speaking to reporters in Peshawar. He added that the PML-N has slandered the courts in the past and cited the example of the Nawaz Sharif-led party's attack on the Supreme Court. "They [PML-N] attack the judiciary when they get trapped," he claimed.

The PTI chairman also said that National Accountability Bureau (NAB) and Supreme Court (SC) will soon announce their decisions against the PML-N chief. He claimed that the PML-N leaders fear that the decision would be against Nawaz Sharif.



Institutions must work within their constitutional limits: PM Abbasi

While talking about the senate elections the PTI Chief said that PTI will field six candidates from Khyber-Pakhtunkhwa and all the PTI MPAs will vote for the party candidates. He claimed that the rival party leaders have started contacting and offering huge amount to his MPAs for the senate election.

"PTI government will change the mode of polling in the senate elections and the election would be made direct when we come into power, like it is in the United State (US)," Imran said. He added that if any of the PTI MPAs sell their vote then the party will hold a sit-in outside their homes. The party chief hoped that the PTI MPAs will not sell their votes and said that he would visit the lawmakers' homes.

To a question about National Accountability Bureau's (NAB) move to initiate an inquiry into his alleged use of provincial government helicopter, the PTI chairman replied that he appreciated NAB's action and rejected the claim that he had used the helicopter for his personal visit.

He also urged NAB to investigate Punjab Chief Minister Shehbaz Sharif on how he uses public properties for his own interest and Maryam Nawaz's use of government helicopter like a taxi for private visits.

PM calls for 'jihad' against horse-trading

Earlier, Imran laid down the foundation stone of the Arbab Niaz Cricket Stadium for the reconstruction of the stadium according to international standards with all the facilities. The stadium revamp will cost around Rs1.39 billion.

He was also accompanied with K-P Information Minister Shah Farman, Minister for Elementary and Secondary Education Muhammad Atif, Adviser to Chief Minister on Higher Education Mushtaq Ahmad Khan, Secretary Sports Muhammad Tariq Khan, Director General Sports Junaid Khan, Director Female Games Miss Rashida Ghaznavi, project director and his fan were also presented.

Later, the cricketer-turned politician also inaugurated the recently rehabilitated Peshawar Sports Complex. The stadium has been rehabilitated with a total cost of Rs164 million to provide enhanced sports activities to the upcoming players.