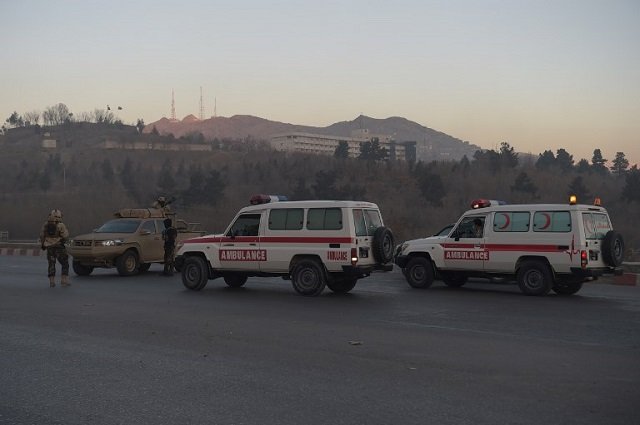 ---
KABUL: The deputy head of security at Kabul's Intercontinental Hotel says guards were ordered to wave through a car later revealed to be carrying militants and explosives ahead of a deadly assault one month ago.

His account reinforces earlier speculation from survivors that the terrifying hours-long assault at the government-owned hotel, which killed at least 25 people including 15 foreigners, had inside help.

Pakistan condemns Kabul attack

It comes in the face of official silence over how the attack on the hilltop hotel unfolded on January 20.

At 7:23 pm that day the hotel's security chief was told by management in a series of text messages seen by AFP that a car with licence plate 14-14 was approaching. "Please kindly assist this VIP," the final SMS read.

The car, later revealed to be loaded with militants and explosives, duly passed through hotel security without being searched, according to B Tamas, the deputy chief of security at the hotel, who saw the messages after they were sent to his boss.

Roughly an hour later the gunmen opened fire, going from room to room in search of foreigners to kill as frantic guests climbed out of windows on ropes made of bedsheets in a bid to escape.

The account by Tamas, employed by Kabul Balkh Safety & Security (KBSS) and who asked AFP not to identify him by his full name, comes a month after the attack while official details are still sparse.

Even the death toll remains uncertain. At least 15 foreigners have been confirmed killed. Beyond that, statements from Kabul authorities vary, with one official saying the total toll number is 25 while there are unofficial fears it could be as high as 40.

Nasrat Rahimi, an interior ministry spokesman, told AFP the investigation team was still working on a report for President Ashraf Ghani, saying only that details will be publicised "very soon".

Management at the state-owned hotel have also declined to answer any queries over the attack.

Faced with this silence, Tamas, a 42-year-old former Hungarian soldier who served in Kosovo under the NATO flag, told AFP in a Skype interview from an undisclosed location that the hotel - even in the best light - had failed to cooperate with KBSS on security.

His boss - an American named as 'Kenny to protect his identity after he was banned by the attorney general from leaving the country - received the texts from the hotel's sales manager.

The car, which Tamas said had three or four people on board, was later found in the hotel parking lot stuffed with weapons and explosives.

KBSS received such requests to waive security searches from the sales manager, Ahmad Haris Ayab, "every day", Tamas said.

Haris, currently detained by authorities along with 10 other suspects and unable to comment on the claims, was the main contact at the hotel for KBSS, a private security company which had taken over the hotel contract from Afghan police on January 1.

But, Tamas and other KBSS officials have said, it was only responsible for the hotel's external security, with the interior protected by what he described as unarmed and untrained guards.

Tamas and Kenny, who both carried small arms, lived on the second floor.

When the attack began, the highly trained pair survived the onslaught by barricading themselves in stairwells for more than half an hour before help arrived in the form of Afghan commandos backed by Norwegian special forces, Tamas said.

In that time, he said, the militants' evident knowledge of the hotel layout made it clear that the operation had been planned for some time.

Tamas's statements have added fuel to speculation over how the attack was planned and carried out.

A witness and a security source had earlier told AFP that at least two of the gunmen were armed and inside the hotel before the attack began, and questions have been raised - including by the country's interior minister - over whether the militants had inside help.

Fears of negligence and complicity in attacks by the Taliban and other militant groups are common in Afghanistan.

Mistrust of the government is also high, as authorities routinely understate death tolls and anger surges over the state's inability to protect civilians.

Tamas is still struck by the basic lack of security procedures in place, even after a 2011 attack on the Intercontinental - which is not part of the global InterContinental chain.

Afghan spy agency points finger at Pakistan for Kabul hotel bombing

Inside, where his company was not responsible for security, the building had no panic button to shut down the elevators and no fire alarm, while X-ray machines had "simply never worked".

Other survivors have also described the lax measures, telling AFP that bags were not checked, scanners did not work and body searches were non-existent.

Every request that KBSS made to the management to tighten security was denied, Tamas said. "They were not listening to us. It was always tomorrow, tomorrow."
COMMENTS
Comments are moderated and generally will be posted if they are on-topic and not abusive.
For more information, please see our Comments FAQ