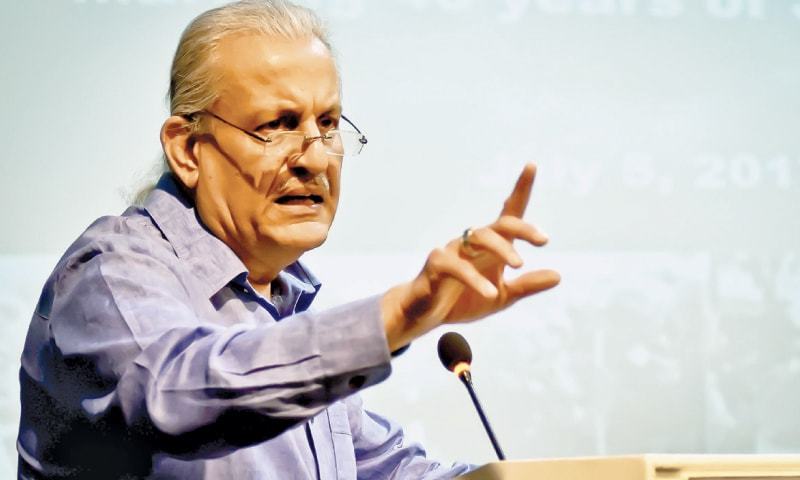 ---
Senate Chairman Raza Rabbani has said that the relations between Pakistan and China are a true portrayal of the "Asian Dream".

Speaking at the launch of Chinese language classes and a publication on "CPEC: Facts versus Fiction", the senator applauded the introduction of Mandarin classes for facilitating economic ties between the two countries.

He also termed the Pak-China relationship important for defending the region against hegemonsim, since previously there had been efforts for changing regime and imposing India as the regional policeman by the US.

Pakistan looks to China, Saudi Arabia for succour

Speaking on the occasion, Chinese Ambassador Yao Jing said that relations between the two neighboring countries would soon mount new heights and that "CPEC is the symbolisation of this bond". He added that China had always supported Pakistan and vice versa. He referred to the two countries as Iron Brothers with their friendship enduring through various circumstances.

Moreover, Senator Mushahid Hussain, the Founder of Pakistan-China Institute, said that the past deliberate attempts for creating misunderstanding about CPEC were spearheaded by India and its Western supporters.

The senator stated the motives behind these attempts were geo-political, for establishing India as an opponent to China with untrue propaganda about the "China Threat". He further termed the peaceful development and rise of China as a foundation for Pakistan's strength in the region.

Talking more about CPEC, Senator Hussain said that when CPEC was first initiated in 2013, the country was believed to be a failing state and China helped in countering this false claim with its great investment of $50 billion. China's trust served as a much needed confidence boost for the people and also changed the country' international perception, he said.

Pakistan's development by-product of China's global integration

Mushahid also prided in Pakistan producing its highest growth rate in over a decade, with projects like Thar coal and Gwadar port already thriving. The JS group collaborated with the Pakistan-China Institute for holding the function.

While the group Chairman, Jehangir Siddiqui, was also present, the CEO of JS Global, Kamran Nasir, addressed the conference. Nasir said they planned to hold more conferences in the future to provide a platform for Chinese and Pakistani companies to intermingle and to promote the Chinese language in Karachi as well.