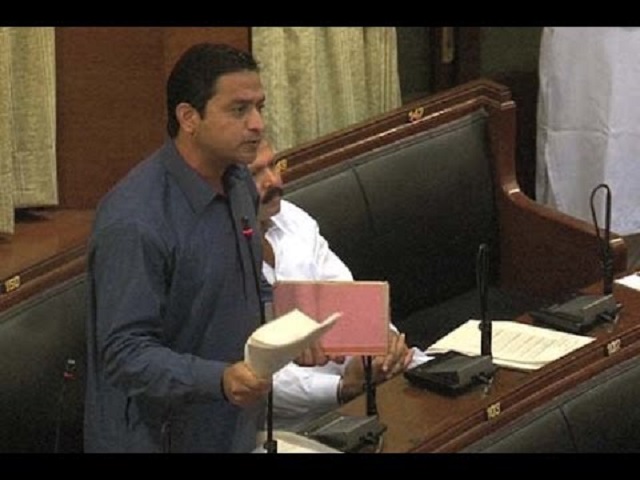 ---
KARACHI: Pakistan Tehreek-e-Insaf (PTI) Sindh Assembly Parliamentary Leader and Khurrum Sher Zaman on Monday submitted a resolution of condemnation in the Sindh Assembly against former president Asif Ali Zardari for his for his complimentary remarks about suspended SSP Malir Rao Anwar in a recent TV interview.

The resolution, besides condemnation of Zardari's statements in favour of Anwar also demanded that the Pakistan Peoples' Party (PPP) co-chairman apologise to the people of Karachi who were victims of Anwar's 'encounters'.

Rao Anwar is a brave kid: Asif Ali Zardari




The PTI Minister of Provincial Assembly (MPA), after submission of the resolution, addressed media at the Sindh Assembly building flanked by fellow PTI MPAs Samar Ali Khan and Dr Seema Zia.

In his remarks to the media, the PTI Sindh Parliamentary leader expressed outrage over the former president's laudatory remarks about  Anwar, calling him a "brave child".

"It is appalling that a former President of Pakistan and current co-chair of PPP would describe suspended SSP Malir as "brave child" given Rao Anwar's reputation as an "encounter specialist", who allegedly killed 444 victims of various ethnic backgrounds," stated Sher Zaman.

"I ask Zardari, are you proud of such a police officer, who takes the law into his own hands and becomes judge, jury and executioner? Instead of showering praise on Rao Anwar, you and Rao Anwar should feel ashamed," he said further.

Never seen a case where suicide bomber's body is in one piece: CTD official on Rao Anwar attack

Zaman appealed to both Zardari and the suspended SSP to have "a sense of decency and think about victims of these encounters/extrajudicial killings and show some remorse."

PTI Sindh Parliamentary Leader also urged the Chief Justice of Pakistan to take notice of Zardari's remarks about Anwar and direct the Inspector General Police Sindh to conduct a search of Bilawal House in Karachi and throughout Pakistan to find the missing SSP.

Resolution in K-P Assembly

A similar resolution was also submitted in the Khyber Pakhtunkhwa Assembly by PTI MPA Haji Fazal Elahi Khan.

"The former president's statement clearly indicates his enmity for the Pakthuns of Pakistan. According to the report submitted by IG Sindh, Rao Anwar is allegedly involved in blatant extra-judicial killings of many people, especially Pakhtuns. The Pakthun community strongly condemns the statement made by Asif Ali Zardari. This assembly therefore requests the provincial and federal government to demand public apology from Zardari and expedite efforts for the arrest of Rao Anwar," the resolution read.


COMMENTS
Comments are moderated and generally will be posted if they are on-topic and not abusive.
For more information, please see our Comments FAQ