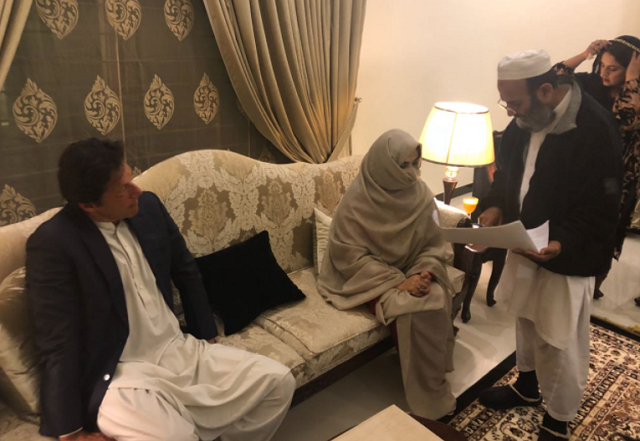 ---
ISLAMABAD: Pakistan Tehreek-e-Insaf has announced that it will soon hold Imran Khan's wedding reception at Bani Gala.

The reception will be kept 'simple and limited to only close family and friends', said a statement issued by party's central media department on Monday.

Khan tied the knot for the third time on February 18 in a ceremony held in Lahore.

According to a close aide of Khan, the reception ceremony would be kept limited to family and a few of Khan's close friends. He repelled the impression that the party's MNAs would also be invited. He added that on the occasion, meals would also be served to orphans.

Imran Khan ties the knot for a third time


Wishing Chairman @ImranKhanPTI and his wife a happy married life . May Allah bless the couple. #MubarakImranKhan pic.twitter.com/BYHQ9CCaA8

— PTI (@PTIofficial) February 18, 2018



Twitter reacts to Imran's hat-trick of marriages


He said Khan's new wife Bushra Wattoo had moved in to Khan's house.

Due to presence of Khan's wife in Bani Gala, the PTI chief had cancelled all scheduled political activities on Monday to spend time with her. However, activities would be resumed on Tuesday (today), with Khan going on a daylong visit to Peshawar where he would perform the groundbreaking ceremony of renovation work on Arbab Niaz Stadium, besides inaugurating Qayum Stadium in Peshawar.

Khan would also hold meetings with PTI MPAs, ministers and others in connection with the upcoming Senate elections.

In the sole tweet related to his marriage, posted on Monday evening, the PTI chief thanked all his well-wishers. "I want to thank everyone for their prayers and good wishes on my marriage," the PTI chief wrote.

Late on Sunday night, the PTI had officially announced Khan's marriage while releasing some wedding photos. The ceremony was held at the residence of Khan's brother-in-law Ahmad Wattoo in Lahore and was attended by Khan's new mother-in-law and other family members.

Khan had two sons from his first wife while Wattoo is a mother-of-five.

The PTI chief was previously married to British socialite Jemima Goldsmith in 1995. The couple divorced in 2004. He then married journalist Reham Khan in 2015, but the marriage ended after just 10 months.