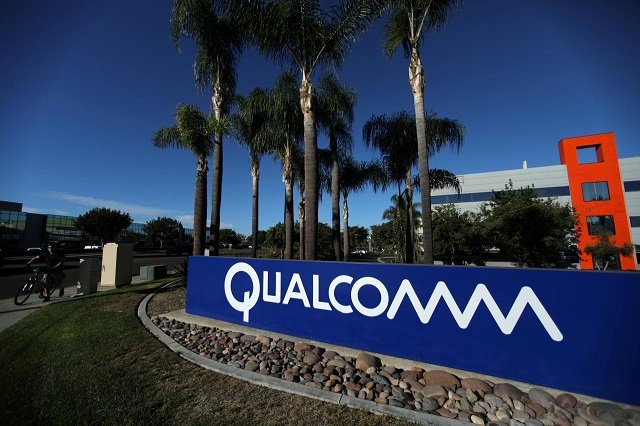 ---
US semiconductor company Qualcomm should try to negotiate a sale to Broadcom following the latter's sweetened $121 billion offer, proxy advisory firm Institutional Shareholder Services (ISS) said.

Qualcomm has been seeking to walk a fine line between resisting Broadcom's acquisition approach, which it says undervalues it and is fraught with regulatory risks, and demonstrating to shareholders and proxy advisory firms such as ISS that it is willing to engage to secure a better deal if possible.

In a report published late on Friday, ISS recommended to Qualcomm shareholders that they vote for four out of the six board director nominees that Broadcom has put forward for election at Qualcomm's shareholder meeting on March 6.

Qualcomm shares fall as reports say Apple may scrap its chips

While this recommendation would fall short of Broadcom's nominees winning a majority on Qualcomm's 11-member board, ISS said such a vote by Qualcomm shareholders would offer a reasonable path to a negotiated deal that would deliver value.

"The tenor of (Qualcomm's) engagement leading up to the present raises questions as to whether the incumbent (Qualcomm) board is committed to playing its part in attempting to maximize the offer," ISS said in its report.

Broadcom first unveiled an unsolicited $70 per share cash-and-stock offer in November, which Qualcomm rejected. It raised its offer to $82 per share in cash and stock on February 5 and offered other concessions, including paying an $8 billion breakup fee in the event regulators thwart the deal, which would be the technology sector's largest-ever acquisition.

ISS said it did not recommend voting for all six Broadcom nominees because Qualcomm's board would then be less inclined to drive a hard bargain with Broadcom in deal negotiations. ISS recommended that Broadcom nominees Samih Elhage, Julie Hill, John Kispert and Harry You should be elected as Qualcomm board directors.

Qualcomm on Friday called a February 14 meeting with Broadcom constructive and opened the door to more talks, but continued to reject the proposed deal.

As of Saturday afternoon, no new meeting between the two companies had been scheduled, according to people familiar with the matter. Broadcom and Qualcomm representatives offered no immediate comment.

The takeover battle is at the heart of a race to consolidate the wireless technology equipment sector, as smartphone makers such as Apple and Samsung use their market dominance to negotiate lower chip prices.

Singapore-based Broadcom is mainly a manufacturer whose connectivity chips are used in products ranging from mobile phones to servers. San Diego-based Qualcomm primarily outsources the manufacturing of its chips which are used for the delivery of broadband and data, a business that would significantly benefit from the rollout of 5G wireless technology.

ISS said in its report that Broadcom's latest $82 per share cash-and-stock bid, which Broadcom CEO Hock Tan has called its best and final offer, does not appear to be clearly superior to Qualcomm's potential standalone value in the short term. ISS added, however, that the offer seemed to represent a reasonable starting point for negotiations.

Even though both companies "have adopted strategies that do not lend themselves to fluid negotiations," a deal between them is possible, ISS said. It suggested that Qualcomm shareholders could gain greater exposure to the deal's potential upside if they were to receive more of the combined company.

ISS also said it appeared more likely than not that Broadcom and Qualcomm, with their collective experience and resources, can find a reasonable path to regulatory approval, despite Qualcomm's current concerns about antitrust risk.

NXP DEAL

Qualcomm is currently seeking to complete a $38 billion deal to acquire NXP Semiconductors NV, which is still pending regulatory approval. NXP shares ended trading on Friday at $118.50, significantly above Qualcomm's $110 per share all-cash offer, as some NXP shareholders, led by activist hedge fund Elliott Management Corp, have called on Qualcomm to raise its price.

Amazon paid $90 million for camera maker's chip technology

Broadcom has said its acquisition offer is contingent on either Qualcomm buying NXP at currently disclosed terms of $110 per share in cash or the deal being terminated.

ISS said in its report that Qualcomm could negotiate provisions with Broadcom to close the NXP deal at a mutually agreed price, which would provide Qualcomm with the "next-best safety net of diversification" in the event the deal with Broadcom falls through.

China's MOFCOM is the only regulator globally required to approve the Qualcomm-NXP deal that has yet to do so. With the start of the Chinese New Year public holiday this week, Qualcomm may now delay its decision on raising its offer for NXP until after the March 6 Qualcomm shareholder meeting.
COMMENTS
Comments are moderated and generally will be posted if they are on-topic and not abusive.
For more information, please see our Comments FAQ