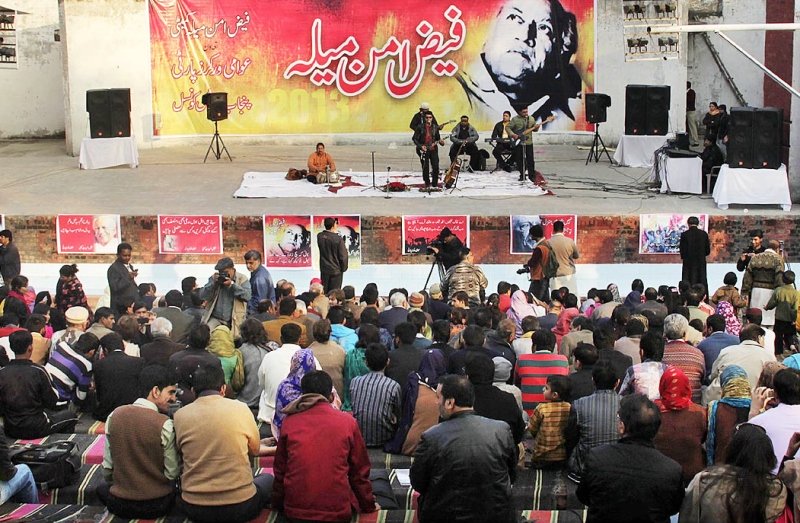 ---
LAHORE: Faiz Aman Mela, a congregation organised by left leaning activists since the times of Zia to pay homage to great Urdu revolutionary poet Faiz Ahmad Faiz, was organised at Open Air Theatre Bagh-e-Jinnah on Sunday.

A huge number of activists and families participated in the gathering that continued throughout the day. The whole day event had different sessions of political dialogue, music, poetry recitation, theatre and dance.

The venue was also marked with red flags with sickle and hammer, a symbol of working class revolution. It also resonated with slogans of revolution all the day with brief interval.

The event was meant to celebrate 107th birthday of Faiz. Another important aspect of the event was that it was dedicated to Asma Jahangir, veteran human rights activist who died a few days back due to heart-seizure and Munnu Bhai, a seasoned journalist, poet, author and activist who died a month back.

Khalid Sheikh, a political activist currently affiliated with Awami Workers Party and previously with group of Miraj Mohammad Khan, while talking to The Express Tribune said Faiz Aman Mela was very important for leftists in Pakistan due to its historical background. Remembering the days of Zia era, he said the regime was authoritative and repressive in nature and anti-left in its genesis. "A brutal crackdown against leftists was going on. They were being abducted, tortured and sent into prison particularly Lahore Fort as a part of state policy," he said.

"It was in such an environment, people had started this activity. It was named Faiz Aman Mela that seemed to be apolitical in outlook but it was the biggest annual political activity for leftists at those times," he asserted.

The event was started after a brief speech by Farooq Tariq, a human rights activist. He told the audience about the background of the activity. "We have dedicated this Faiz Aman Mela to Asma Jahangir and Munnu Bhai for their relentless struggle," he announced.

Then there was a discussion on feminism by Dr Sara Suhail, ecology by Saliha Rauf, "National Question" by Ammar Ali Jaan, "Art of Change" by Arooj Aurangzeb, students and politics by Haider Butt, "Election 2018 and Role of Left" by Jawad Ahmad and Dr Laal Khan spoke on current political situation.

Published in The Express Tribune, February 19th, 2018.
COMMENTS
Comments are moderated and generally will be posted if they are on-topic and not abusive.
For more information, please see our Comments FAQ