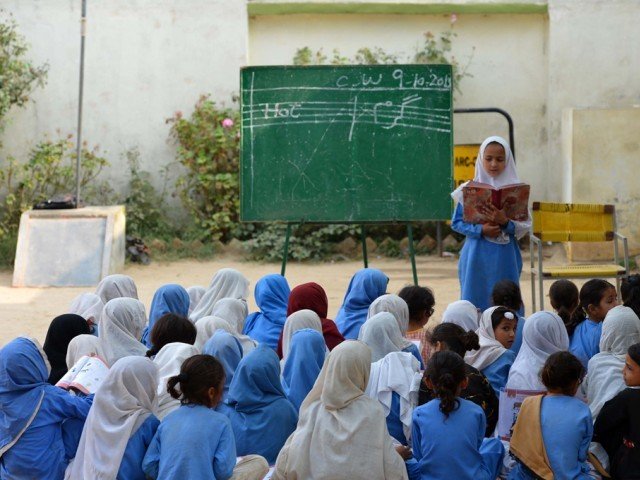 ---
LAHORE: Pakistan Tehrik-e-Insaf (PTI) on Sunday presented a comparative analysis of Punjab and Khyber Pakhtunkhwa's (KP) educational sectors, highlighting over 11 million children were out of schools in Punjab and doing petty jobs owing to negligence of the provincial government.

Education moot: Use research as tool for societal transformation

Punjab Assembly opposition leader, Mian Mahmoodur Rasheed, said the Punjab government had badly failed to achieve public schools' enrolment target of 600,000 students in 2017. It could hardly complete 23% enrolment during the said period. Citing Punjab government's official statistics, opposition leader said parents of over 25,000 students had to transfer their children from public to private schools because the government's education system was fast deteriorating in Punjab.

He underscored that the Pakistan Muslim League-Nawaz (PML-N) had failed to initiate any remarkable educational project in Punjab. Instead of increasing budget for education sector, the government had earlier shifted education budget to Lahore Metro Bus service and now it was being spent on Lahore Orange Line Metro Train project. In addition, the government had also spent over Rs3 billion on different mega project, which were originally earmarked for construction of additional classrooms in public schools, he added.

Rasheed taunted that Punjab Chief Minister Shehbaz Sharif's false slogan of 'Parha Likha Punjab' (educated Punjab) could not become reality by just printing his (Sharif) photograph on textbooks and roll number slips. "The government should make serious effort to revamp education sector in Punjab," he maintained.

Contrary to Punjab, Rasheed highlighted that in the K-P, the PTI government had initiated revolutionary measures by including this sector in the priority list. The government had established 817 new public schools besides upgrading 2,412 existing schools. The K-P government had spent Rs29 billion for provision of missing facilities in schools, including establishment of 1,400 new computers and 8,000 new playgrounds, he indicated.

He pointed out that 40,000 new teachers were inducted and training was provided to another 80,000 teachers in the K-P which resulted in that education graph of the province had increased by 16.15% and over 150,000 students had been transferred to public schools from private schools.

Referring to the recent survey of a non-governmental social welfare organisation, Alif Ailaan, Rasheed said, the KP had been ranked at first place in public sector primary schools. "In terms of electricity supply to educational institutions, eight best schools out of top 10 in Pakistan were in the K-P. Similarly, in provision of water supply, top five schools in 10 districts of Pakistan fall in the KP. The KP has been declared as the best province in terms of primary education and infrastructure among all provinces of the country," he said.

'Seek education to better serve your country'

"The Punjab government on the other hand wasted huge sum of public money in politically motivated projects, like Danish schools, laptop, solar panel and free books distribution schemes. It failed to improve education infrastructure and education quality in Punjab," the opposition leader said. He pointed out that Government Boys Primary School, Chak 95 TDA, in Layyah district had huge area of 33 kanal but only three students were enrolled in this school and had only one teacher. It clearly indicates the government and education machinery's performance and the PML-N government intention to improve education standard in the province, he concluded.

Published in The Express Tribune, February 19th, 2018.
COMMENTS
Comments are moderated and generally will be posted if they are on-topic and not abusive.
For more information, please see our Comments FAQ