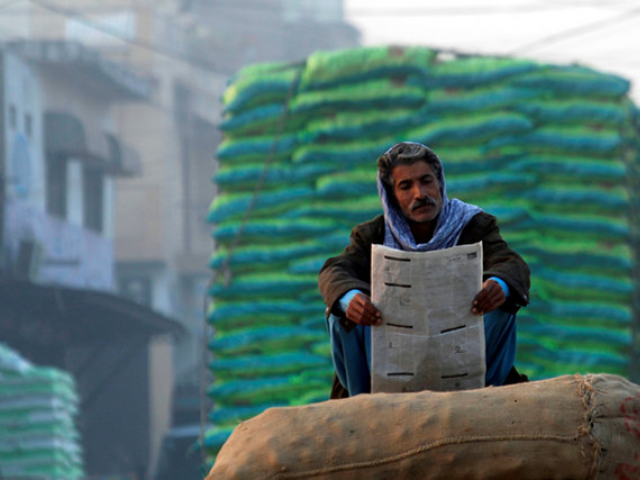 ---
ISLAMABAD: The Trump administration is mulling over various options to slap sanctions on Pakistan that may force Islamabad to declare a financial emergency to avoid collapse of the economy.

Although Pakistan has succeeded in winning over the support of many countries including China, Russia, Saudi Arabia and some important members of the European Union, the United States continues to threaten Islamabad if it does not allegedly stop supporting terrorist outfits, especially Afghan Taliban and Haqqani network.

Pakistan could face economic pain from return to terrorist financing 'grey list'

Some of the US senators and House of Representatives' members are pushing Trump to impose sanctions on Pakistan as it is still unprepared to accept Washington's dictates. Islamabad has been told directly and indirectly that it would have to go along with the Indo-US strategy in Afghanistan and the region to escape sanctions.

While the government appears to have given in to the pressure in a couple of areas including banning a number of religious and militant organisations including Jamaatud Dawa of Hafiz Saeed, it is not ready to concede anything that is against its vital national interest.

The Corps Commanders' conference held at GHQ Rawalpindi last week is said to have vowed not to accept any Indian military role in Afghanistan. This is in that backdrop it is feared that the US government could slap sanctions on Pakistan, though it has so far not got enough support from the larger international community.

"We are left with limited options to escape a bigger financial turmoil and I am afraid the situation would go out of hands, if the US slaps sanctions on us," warned renowned economist Dr Hafiz Pasha. "In that case, the constitution allows proclamation of financial emergency under Article 235 and this is how we may deal with US sanctions."

The former finance minister called for forging urgent political consensus to cope with any contingency that might arise from the sanctions.

Twin deficits

Pasha said balance of payments problem was getting precarious, requiring urgent measures including non-tariff barriers that are allowed by the General Agreement on Tariffs and Trade (GATT). It was the first worldwide multilateral free trade agreement that remained effective from June 30, 1948 to January 1, 1995 and was later replaced by more robust World Trade Organization (WTO). The current economic situation, he said, was getting unsustainable with fiscal and current account deficits becoming larger than expected.

"Our imports need to be greatly restricted," he said, adding whether anybody ever anticipated that these imports could go as high as $4.5 billion just in one month.

He suggested that politicians should stop constant bickering and immediately arrive at a consensus to deal with any US sanctions. "The sooner our politicians realise, the better it would be to fix our economy that has been ruined over the years," he said. The Abbasi government does not look interested in delivering ahead of upcoming elections and perhaps it expects the new government to deal with growing economic challenges.

Now when the burgeoning external imbalances are getting unmanageable, some officials are suggesting the country should seek urgent external financing, the chances of which are not very bright due to the US and its influence over international financial institutions. While there is some improvement in tax revenues, non-tax revenues including privatisation and the Coalition Support Fund (CSF) are a problem area that needs to be improved to fund the current budget. However, that budget has been deliberately devastated by extending billions of rupees to PML-N and like-minded legislators to help them win the elections.

New development schemes are sought to be approved by the Planning Commission despite the fact that there does not exist enough fiscal space.

But those who are sitting in the Planning Commission have found an intriguing way to vent their frustration by releasing their internal assessment according to which the government has missed all major macroeconomic targets including revenue growth, industrial output, agriculture, deficit, investment, savings, exports, FDI and social indicators. The timing of the report is being termed very embarrassing for the government which plans to cash in on its so-called economic achievements including those relating to electricity and development projects.

Revenues

Why fiscal deficit is growing despite having some growth in revenue? The revenue is increasing in provinces and not in the books of the federal treasury.

Fiscal deficit has increased from an average of 5.2% of GDP to 5.8% in 2016-17. Will it cross 6% or reach close to 8% as being projected by independent economists?

Generally, it is said that over-spending is required for which the Ministry of Finance is forcing planners to disburse more and more funds for development purposes. Since the balance of payments remained under severe pressure, the current account deficit grew to $12.4 billion - 4.1% of GDP - in 2016-17 from $5 billion (1.7% of GDP) in 2015-16. Will the current account deficit pose far more serious problems when the current fiscal year ends on June 30?

Terror financing: US, UK move 'aims at hampering economic progress'

Who would disagree that Pakistan's balance of payments problem began to worsen immediately after the completion of IMF's three-year $6.67 billion Extended Fund Facility. IMF officials have no answer when asked why their projected $4.7 billion current account deficit for 2016-17 proved wrong and the figure surged to $12.4 billion. Economists ask how could IMF officials be so wrong in predicting the deficit?

The current account deficit primarily worsened due to extraordinary 18.8% surge in imports which included 26.7% growth in petroleum products, 24.9% in transport, 19% in machinery including 43% in electrical machinery, 62% in apparatus and 26% in power generation machinery. The important question, however, is why did the government allow these huge imports, especially those of luxury and non-essential items? Was that meant to appease the affluent class that eventually turned out to be a real issue in the burgeoning deficit?

The current economic mess, no doubt, is being experienced due to political uncertainty for which the Abbasi government should be blamed that wasted so much time in appointing a new finance minister after Ishaq Dar left for London to avoid accountability cases.

Does anyone have any idea whether the current government, caretaker government or the future elected government would take into account the dangers of fiscal and current account deficits?

Everyone knows that the looming economic crisis will have devastating effects, but then those who matter seem unmoved. Where will that take the poor nation?

The writer is the recipient of four national APNS awards and four international best journalistic awards

Published in The Express Tribune, February 19th, 2018.

Like Business on Facebook, follow @TribuneBiz on Twitter to stay informed and join in the conversation.


COMMENTS (1)
Comments are moderated and generally will be posted if they are on-topic and not abusive.
For more information, please see our Comments FAQ