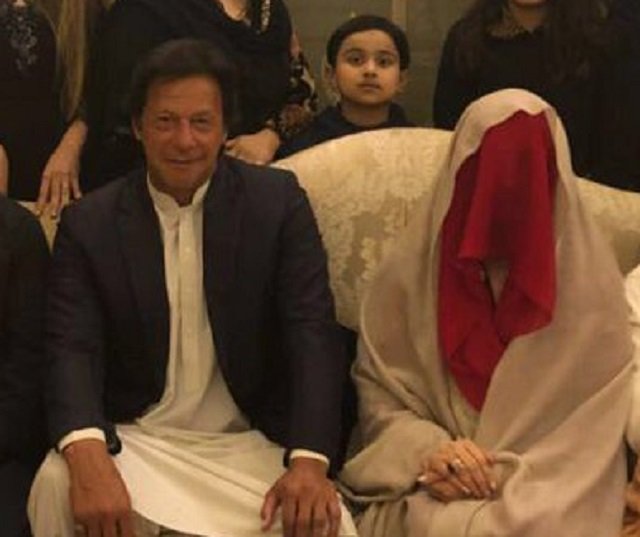 ---
KARACHI: As Pakistan Tehreek-e-Insaf confirmed the good news, felicitation messages started pouring in, wishing Imran Khan and his new wife a happy married life.

Party leaders and supporters took to Twitter to congratulate the skipper on tying the knot.

Senior leaders Jahangir Tareen and Shireen Mazari prayed for the newly-weds to find happiness.


Khan sb, shaadi mubarak ho bohat 😊 I hope & pray that Allah keeps both of you happy for the rest of your lives. Stay blessed 😊 #MubarakImranKhan pic.twitter.com/dTjScmUHIS

— Jahangir Khan Tareen (@JahangirKTareen) February 18, 2018
Congratulations to IK on his nikah to Bushra today. May he find happiness in his personal life. Wish him the best. pic.twitter.com/gnGTxLsA8a

— Shireen Mazari (@ShireenMazari1) February 18, 2018


Shafqat Mehmood wished the couple "all the best".


Congratulations Imran Khan on his marriage. Wish the happy couple all the best #MubarakImranKhan

— Shafqat Mahmood (@Shafqat_Mahmood) February 18, 2018
Imran Khan ties the knot for a third time
Congratulations to @ImranKhanPTI on his marriage. Allah Khan Sb ko khush rakhay. Wishing him a happy and blessed married life! #MubarakImranKhan pic.twitter.com/BSGi6Sk5I0

— Mushtaq Ghani (@MushtaqGhaniPTI) February 18, 2018
#MubarakImranKhan

Congratulatons to @ImranKhanPTI !

Wishing you both all the happiness in your life. pic.twitter.com/L5ppdmT5eX

— Abdul Aleem Khan (@aleemkhan_pti) February 18, 2018


Party leader from Sialkot Usman Dar wished ease in life for Mr and Mrs Khan. Khan's close confidante Awn Chaudhry also wished the couple well.


خان صاحب کو شادی پر مبارکباد پیش کرتا ہوں۔ اللہ تعالیٰ سے دعا ہے کہ ہمارے کپتان کی زندگی میں بے شمار خوشیاں اور آسانیاں پیدا ہوں۔ pic.twitter.com/j0tGJbZ4XR

— Usman Dar (@UdarOfficial) February 18, 2018


Scores of journalists, and celebrities also congratulated the pair in their messages through mainstream and social media.


Imran Khan is now a married man once again - Officially ! pic.twitter.com/UUYtJ8UfSa

— Mansoor Ali Khan (@_Mansoor_Ali) February 18, 2018
#PTI confirms @ImranKhanPTI wedding . Congrats pic.twitter.com/vj9rI7f0q6

— Asma Shirazi (@asmashirazi) February 18, 2018
Congrats @ImranKhanPTI for getting married. Wishing him the best & hope he finds happiness and stability in this relationship. Even though he is a public figure, this IS a personal affair-all those writing nasty comments should rethink.We should encourage civility in discourse. pic.twitter.com/UiFfWhe0ac

— Raza Ahmad Rumi (@Razarumi) February 18, 2018


There were also some hilarious reactions:


Shadi Mubarak @ImranKhanPTI . Screw the haters.

— Shoaib Taimur (@shobz) February 18, 2018
Now Nawaz Sharif and Imran Khan have one thing in common — both have taken 3 oaths — Nawaz as PM, Immi as bridegroom. #win

— Naila Inayat (@nailainayat) February 18, 2018
Imran Khan decided to watch PSL season 3 with his 3rd wife 😍#MubarakImranKhan

— Arslan Naeem (@ArslanNaeem97) February 18, 2018
Chairman #PTI @ImranKhanPTI has a message for everyone after his 3rd wedding. pic.twitter.com/nOIln0MXVA

— Shahbaz Zahid (@shahbazzahid) February 18, 2018
Qoum Imran Khan sahib ki taraf dekh rahi thi magar wo kahin aur dekh rahe thay #MubarakImranKhan

— Mubashir Zaidi (@Xadeejournalist) February 18, 2018
Imran Khan facing his 3rd marriage pic.twitter.com/cOrTWuYxVD

— .🇵🇰 (@DudeTabahi_) February 18, 2018
Tabdeeli aa gaye....70 saal takk moroosi siyasat hui ab uroosi siyasat ka daur aa gaya hai #MubarakImranKhan

— Mubashir Zaidi (@Xadeejournalist) February 18, 2018
Imran Khan's theory of Islamic evolution. #ImranKhanWedding pic.twitter.com/JRcoVLf355

— Salman Sikandar (@SALSIKandar) February 18, 2018


https://twitter.com/_MAN_HUNTER/status/965288319121838082

https://twitter.com/Waqas_amjad/status/965289520043384832


Its all started with a hat,then came dupatta and now its a total wrap #MubarakImranKhan pic.twitter.com/Fz3ydO6mdr

— Shanzay Balouch (@shanzaykhan2) February 18, 2018


https://twitter.com/IamTeamIK/status/965294771404267520


Imran Khan Upgrades Wife Faster Than People Upgrade Their Phones. 🙈😂😉 #ImranKhan pic.twitter.com/gLzASM2g1z

— Sir Jadeja fan (@SirJadeja) February 18, 2018