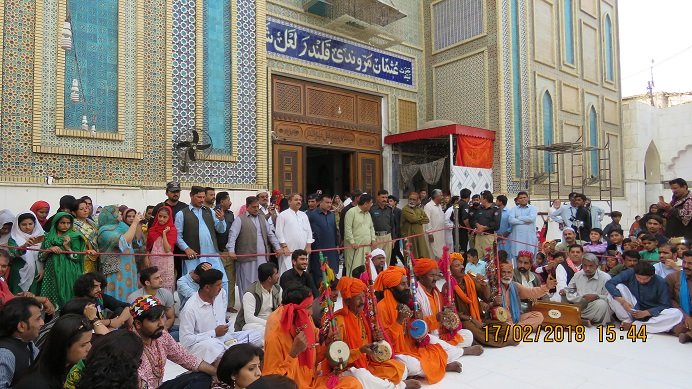 ---
SEHWAN: It has been one year since the terrorist attack at the sufi shrine of Lal Shahbaz Qalandar in Sehwan. At least 85 people were killed and more than 300 others injured when a suicide bomber launched a grenade before blowing himself up at the shrine on February 16 last year.

The much-loved shrine, located in Sehwan Sharif, attracts up to one million visitors annually. The bombing claimed by Da'ish at the centuries-old shrine was an attempt by militants to silence moderate and tolerant voices and instil fear.

The explosion hit as sufi Muslims were gathering to perform the dhamaal, a practice of whirling performed by devotees to honour sufi saints in a state of elation in response to music. Sufis are regarded as heretics by hardline Wahabi and Salafist fundamentalist groups, including the Islamic State, Taliban and alQaeda.

To commemorate the date of the blast, Tehreek-e-Niswan organised on Saturday a dialogue session for more than 400 civil society representatives from different parts of Pakistan, followed by a dhamaal performance by classical dancer and activist Sheema Kermani.

Kermani, who is known for using her use of dance as activism, said her performance was an attempt to promote tolerance and pluralism, as she had done so just two days after last year's explosion in a move hailed as courageous.

Sehwan blast victims remembered one year later

Tehreek-e-Niswan, which can be translated as the women's movement, is an organisation founded by Kermani in 1979 to end discrimination in society, particularly against women and create a space for women to freely express themselves.

"When we heard about the bomb blast last year, everybody was shaken. The shrine was supposed to be a place anybody could go to any time without any fear," said Anwar Jafri, a playwrite and one of the organisers associated with Tehreek-e-Niswan. "So, we made it a point that we must come here to show solidarity. The basic reason behind coming to the shrine is to find our own space. We have to reclaim the space, which has been taken over by these extremist forces all over Pakistan, especially in Sindh, which used to be land of peace and love," he said.

"Shrines such as Lal Shahbaz Qalandar's are actually a secular place in spite of it being predominately Muslim. Sindh is a place where Hindus, Christians and people of other religions used to live and was once very secular," said Jafri. He said we must stand up to extremists and show them that there are people who care about their heritage and traditions, such as visiting shrines.

Bloodbath at Sehwan shrine

"This is the main reason why we are here today and want to keep coming," he said.


COMMENTS (1)
Comments are moderated and generally will be posted if they are on-topic and not abusive.
For more information, please see our Comments FAQ