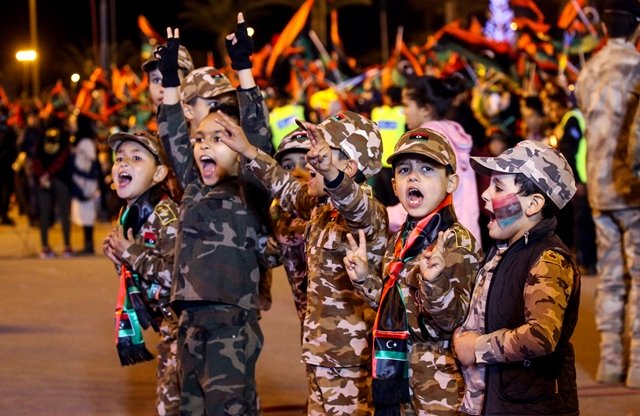 ---
TRIPOLI: Thousands of Libyans on Saturday marked the seventh anniversary of the start of protests that ousted Dictator Moamer Kadhafi, with rallies and concerts despite the country's political and economic morass.

In the capital Tripoli, and across many cities in the North African country, thousands packed public squares where the authorities were organising concerts and other festivities.

Libya descended into chaos after the 2011 NATO-backed uprising, with rival militias, tribes and jihadists vying for influence across the oil-rich country.

A 2015 UN-backed deal to set up the unity government in Tripoli was meant to end the turmoil.

But Libya has remained riven by divisions between the Government of National Accord (GNA) and a rival administration backed by military strongman Khalifa Haftar in the east.

Renaming Gaddafi Stadium

The GNA has failed to assert its authority across the oil-rich country, which is also grappling with deadly attacks, and a migration crisis seven years since the uprising erupted.

Internationally-backed Prime Minister Fayez al-Sarraj acknowledged his government's shortcomings in a televised speech on Saturday to mark the seventh anniversary, and called for national reconciliation.

"Maybe a regime has ended, but the truth is we have not managed to rid ourselves of a culture that has dominated the minds and behaviour of many people, who today are at the forefront of politics and who consider the homeland as booty," Sarraj said.

National reconciliation, he said, was key to a solution to end divisions in Libya and ease the crisis facing the country.

Sarraj also accused countries, which he did not name, of "fuelling" the Libyan conflict and called on them to stop intervening in his homeland.

In Tripoli, Libyans thronged the central Martyrs' Square waving the country's red-green-black flag.

Muammar Qaddafi dead: NTC spokesman

Boy scouts marched and concerts as well as fireworks were planned as parts of the festivities, which were kicked off on Friday.

"Maybe 2018 will be a good year for Libya," said Mohsen Ali, a civil servant, who brought his wife and two small children to Martyrs' Square.

"We must start the year well so that good things happen," he added.

But if some were keen on celebrating the start, seven years ago, of protests that led to the toppling and killing of Kadhafi, others took to social media to declare there was nothing worth celebrating.

Everyday life is a struggle for Libyans, who face constant electricity cuts, cash shortages, a drop in the national currency and a dire public services.
COMMENTS (1)
Comments are moderated and generally will be posted if they are on-topic and not abusive.
For more information, please see our Comments FAQ