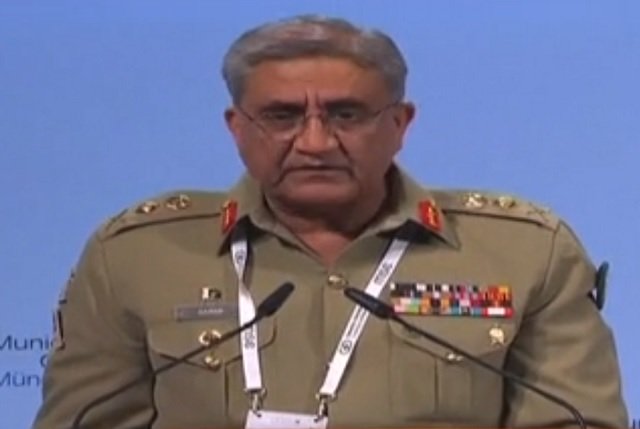 ---
KARACHI: While claiming that Pakistan does not have any organised presence of terror outfits on its soil, army chief General Qamar Javed Bajwa has said Afghan refugees' repatriation is the key to eradication of terrorism from the region.

"Today I can say with pride and conviction that there are no organised camps on our side of the border. However, presence of terrorists of various hues and colours cannot be ruled out.

"We still have their active and sleeper cells and they are hiding in mountains, border towns and 54 refugee camps, besides some major town and cities," said General Qamar on Saturday while speaking at the Munich Security Conference (MSC) in Germany.

According to the army chief, Pakistan still hosts nearly 2.7 million Afghan refugees "whose concentration is regulary used by the Tehreek-e-Taliban Pakistan (TTP) and Haqqani network to recruit, morph and melt".

"It is time for these refugees to be repatriated with dignity. It is the only way we can ensure that no one is misusing our hospitality and soil for mischief in Afghanistan. This is possible at the fraction of the cost of the war in Afghanistan which is around $46 billion per year currently," he added.

Path to regional peace passes through Afghanistan, says Gen Qamar

While refusing to blame the Kabul administration, General Qamar said of the last 130 terrorist attacks in Pakistan's border areas last year, 123 were conceived, planned and executed from Afghanistan.

"We understand their [Kabul's] predicament and therefore we do not blame them, but instability in Afghanistan is also hurting us badly. And it is happening despite the presence of the most powerful alliance in Kabul," he added.

Earlier, highlighting the causes of violent extremism, the army chief blamed the 'liberal free world' creating 'the Frankenstein' of militancy in the wake of Soviet invasion of Afghanistan in 1979 – a job which, he said, was undertaken by the 'myopic cooperation' of Pakistan's then leadership.

"With the able intellectual assistance of the free world, a syllabus was designed in one of the western universities for madrassas whereas jihad was fed into young minds in a concentrated dose, without context or explanation.

"An exception was created using a self-defence clause to justify declaration of jihad by non-state actors. Young men were recruited from all over the world, radicalised and then left and disowned after they had delivered the success.

"Therefore, we are all responsible for making the world population in general and the Muslim population in particular a hostage to extremist ideology," he added.

PM sanctioned troop deployment to Saudi Arabia for 'advisory purpose'

"We are all responsible for making the world population in general and the Muslim population in particular a hostage to extremist ideology," he added, adding that the world was harvesting what its sowed forty years back, adding that it would take some time before this scourge is over.

He said the concept of Jihad is a highly evolved and outlines a myriad struggle against tyranny of all kinds. Muslims are taught that the control of self is the most elevated form of Jihad and according to a tradition of the Holy Prophet (pbuh) the best of Jihad is the word of truth before a tyrant ruler.

The army chief said Jihad can only be sanctioned by a state authority but added that this powerful concept could easily be misused for propagating extremism and terrorism.

"Particularly as many Muslims the world over are not only feeling alienated, but disowned, targeted and devoid of positive expression. The same is true for the concept of the caliphate which is more of a nostalgic response rather than an actual possibility for most Muslims.

"In Pakistan the notion of Caliphate has not found any attraction. But Jihad has definitely been used to radicalise fairly large tract of population. But this phenomenon is not a recent creation that started after 9/11," he added.

Gen Qamar ratifies death sentence of seven hardcore terrorists

Highlighting Pakistan's gains against terrorism, he said the Pakistan Army has waged a relentless and bloody fight against terrorism and violent extremism at a monumental human and material cost.

"Over 35 thousand Pakistanis have lost their life. Over 48 thousand are critically wounded or disabled. Financial cost exceeds US 250billion dollars only a fraction of which as actually shared by our global partners," he added.

He said in Pakistan's war against terror, military operations were not the only thing. General Qamar said first we generated public opinion to defeat the terrorist narrative while also formulating the National Action Plan (NAP) aimed at fight terrorism and gradually routing extremism.

"Our successes are made possible by the collective resolve our entire nation. However, we are far from done. It is my consistent believe that Pakistan's lasting peace hinges in peace and stability in Afghanistan," he said.

Gen Qamar attends funeral prayers for security personnel martyred in Swat blast

The army chief said despite spending billions of dollars in Afghan War, the situation on ground could best be described as and stalemate. He rejected the 'popular assertion' that the Afghan Taliban has not been defeated in totality due to presence of part of their leadership.

"We defeated Al Qaeda, the TTP and Jammtul Ahrar while their safe havens still exist in Afghanistan at a mere fraction of resources employed at the other side of the border. Instead of blame game it is time for the NATO to conduct and audit and introspection to find out the causes of this stalemate," he added.

He said the US success in Afghanistan was lost when resources were pulled out prematurely from it in 2003 for a war in Iraq. He said the cause of this stalemate is not Haqqani Network or Afghan Taliban that were almost defeated 13 years back. It was the pursuit of a wrong strategy that led to their resurrection.
COMMENTS (5)
Comments are moderated and generally will be posted if they are on-topic and not abusive.
For more information, please see our Comments FAQ