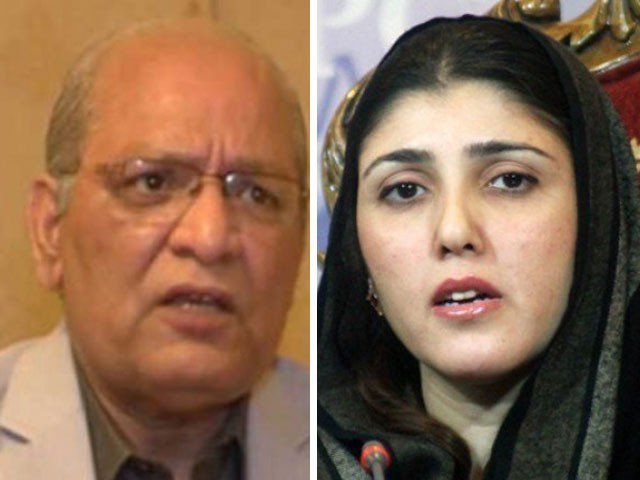 ---
Hours after the disgruntled MNA of Pakistan Tehreek-e-Insaf (PTI) Ayesha Gulalai fired broadsides at ruling PML-N, the latter's leader Senator Mushahidullah Khan said the former's only claim to fame was the issue of lewd text messages sent to her by her party chief Imran Khan.

Earlier today, Gulalai had claimed that the Pakistan Muslim League-Nawaz (PML-N) had instigated her to badmouth the army in return for a Senate ticket.

Reacting to her statement, Mushahidullah said the party had a long list of electable and did not need to lure anyone to join it.

"Ayesha Gulalai should not say things beyond her scope … she should first try to elevate her to a point where PML-N offers her the party ticket itself," he remarked.

"Ayesha Gulalai's only claim to fame is the issue of lewd text messages, for which she still has our sympathies," he added.

PML-N instigated me to speak against army, offered Senate ticket in return: Ayesha Gulalai

Speaking to the media outside the Parliament House in Islamabad earlier today, Gulalai had said she refused the Senate ticket offer from the PML-N as it required speaking against the army.

She said this was against her patriotism, as the army was the only institution that was working for the good of the country.

On Thursday, Gulalai said the ruling PML-N could only manage to pull a shocking victory in the recently held Lodhran by-election against the Imran Khan-led party because of her.

On August 1 last year, Gulalai had accused Imran and his 'gang' of sending lewd text messages to women workers, saying they were being constantly harassed within the party.

The PTI, after serving her show-cause notice, moved the Election Commission of Pakistan (ECP) to de-seat her on charges of defecting the party. The commission, however, dismissed the reference to de-seat the MNA, elected on a women's reserved seat.
COMMENTS (1)
Comments are moderated and generally will be posted if they are on-topic and not abusive.
For more information, please see our Comments FAQ