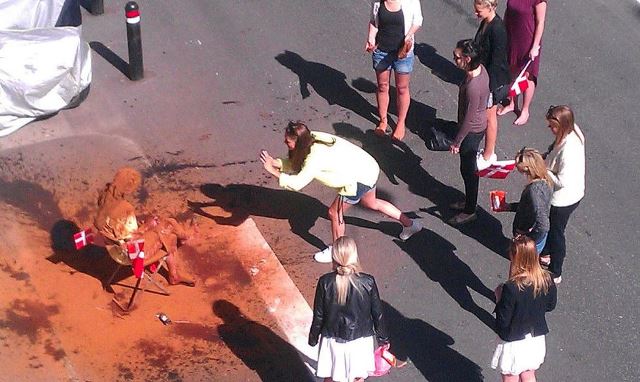 ---
All the singles out there must be glad that Valentine's Day is over. However, if you live in Denmark, the nightmare may continuously haunt you.

There is a reason why the streets of Denmark are covered in cinnamon and also known for it's long-standing tradition.

When you turn 25, if you're unmarried, it is necessary in Demark for your friends and family to cover you in spice. It doesn't end right there, water is also splashed from head to toe for the cinnamon to stick even more and better.

Denmark to charge 1,000 youths with spreading sex videos via Facebook

A Danish man said that the tradition may date back hundreds of years to when spice salesmen would travel around and remain singles because they were never in one place long enough to seddle down with someone.


In Denmark being unmarried on your 25th birthday gives people social license to pelt you with cinnamon. pic.twitter.com/rpeheQvOXi

— Sabrine (@DasSabrine) May 19, 2017


Many of these salesmen would never find a partner and would be referred to as Pebersvends, which means "Pepper Duedes". A single women is known as "Pebermo", or "pepper maiden".

However, the level of torture increases on your 30th birthday, where the cinnamon shifts towards pepper.

Life-size camel carvings dating back 2,000 years found in Saudi Arabia

If they're feeling super rude, Danes sometimes add eggs to the mix because it "helps with adhesion".




Did you know: In #Denmark, if you're 25 and unmarried, your friends tie you to a lamppost or tree and bombard you with eggs and cinnamon? :) pic.twitter.com/nxNfAl6i5t

— Nikola Vukovic (@VukovicNikola) March 19, 2017


No matter how cruel the actions suggest, nobody is being judged for still being single at 25. The average age of men getting married in Denmark is 34-years-old while for women, it's 32-year-old.


so in Denmark, when you turn 25 and aren't married you get cinnamon. best tradition ever! HAPPY BIRTHDAY BROTHER😃❤️ pic.twitter.com/GwezomTr0M

— stine (@stinechelon) April 5, 2014


Rather than a punishment, the tradition brings out the fun yet funny element to be played out on your friends or family when they reach their danger ages, respectively.

This article originally appeared on The Independent.
COMMENTS
Comments are moderated and generally will be posted if they are on-topic and not abusive.
For more information, please see our Comments FAQ