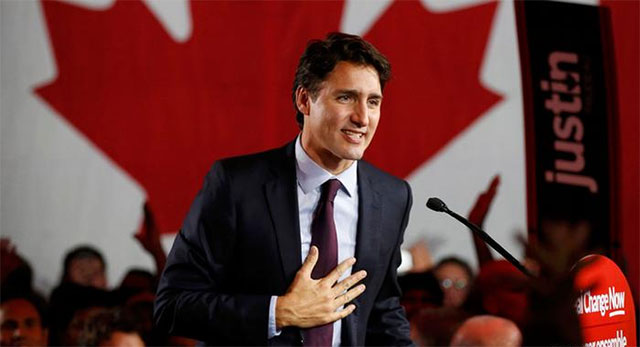 ---
In an open letter written by Amnesty International to Canadian Prime Minister Justin Trudeau, the organisation has called on the PM to raise six different issues including the use of pellet-firing shotguns in Kashmir during his visit to India.

Trudeau is visiting India from February 17 to 23 and the letter lays "out a number of pressing human rights concerns and related recommendations that Amnesty International's 300,000 supporters across Canada urge you [Trudeau] to raise in all possible exchanges, including meetings with Prime Minister Narendra Modi."

Kashmir teen blinded by pellets rejoices after clearing exam

According to Amnesty International, the areas of concern are: threatened forced mass expulsion of Rohingya people from India; justice and accountability for the 1984 Sikh massacre; use of pellet-firing shotguns in Kashmir; demonisation of religious minorities;  decriminalisation of consensual adult same-sex relations; and criminalisation of marital rape.

Use of pellet-firing shotguns in held-Kashmir

Concerned about use of pellet-firing shotguns in held-Kashmir, Amnesty International urged the Canadian PM "to call on Prime Minister Modi to immediately ban the use of pellet-firing shotguns as a means of policing protests."

The open letter states these shotguns have killed, blinded and injured thousands of people. "People injured by pellet-firing shotguns have faced serious physical and mental health issues, including symptoms of psychological trauma," the letter reads further.

The use of pellet shotguns in held-Kashmir violates international standards on the use of force, states Amnesty International. They also urged Trudeau to "work with the state government of Jammu and Kashmir to set up independent investigations into cases of deaths or serious injuries caused by pellet firing shotguns."

Demonisation of Muslims in India

Hate crimes against Muslims has also been raised as a major concern by the human rights organisation. According to the letter, in 2017, several hate crimes against Muslims were reported in different parts of India, amid a rising tide of Islamophobia in the country. Stating that this has "contributed to a growing sense of insecurity for many Muslims, and intensified religious tensions."

As such, the organisation urges Trudeau call on PM Modi to"publicly condemn hate crimes and Islamophobia and work with state governments to end impunity for those responsible for hate crimes against Muslims."

Other areas of concern

The open letter also asks Trudeau to call on Modi to ensure that Rohingya people living in India are not forcibly expelled, and "to explore opportunities for Canada and India to work together to pressure the government of Myanmar to end discrimination and violence against Rohingya people."

Muslim man in India slapped 25 times, forced to say 'Jai Shri Ram'

The 1984 Sikh massacre has also been raised as an issue of concern and it is urged that "all those suspected of involvement in the 1984 killings, including those with command responsibility, are prosecuted."

The letter also asks the Canadian PM to discuss with Modi to decriminalise consensual adult same-sex relations. Further, the organisation also asks that India "amend the law to remove the exception to marital rape in the definition of rape in the penal code."