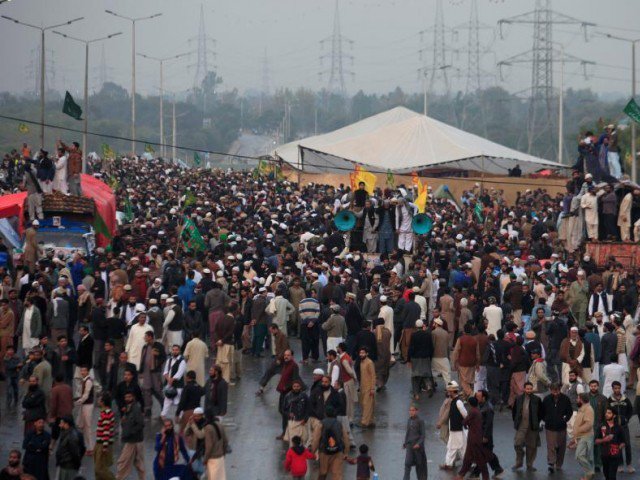 ---
ISLAMABAD: While hearing a suo motu case regarding the Faizabad sit-in on Friday, the Supreme Court was informed that the federal government was bringing in a new legislation to deal with such situations.

Attorney General for Pakistan Ashtar Ausaf Ali informed the SC's two-judge bench, headed by Justice Mushir Alam, that 'Anti Riots Protection Bill 2018' had been drafted to meet such challenges.

The AGP apprised the bench that a bill will be submitted before the cabinet next week, adding that the proposed law would meet the challenges confronted by the state while dispersing such sit-ins.

IHC threatens authorities with contempt charges for non-submission of Faizabad sit-in report

The bench expressed concern over negotiation with the protesters of the sit-in held last year. It noted that negotiations would encourage miscreants to take over the twin cities and paralyse the functioning of the state.

The court lamented that no preventive measures had been taken to deal with such situations in the future.

Expressing dissatisfaction over the Inter-Services Intelligence (ISI) report in the matter, the bench remarked that the report lacked certain information.

However, the AGP reiterated his request for removing the name of ISI from the court order, adding that it was the job of the administration to take such steps and ISI had no role in this regard. The bench noted that they would consider his plea.

Later, Pakistan Electronic Media Regulation Authority (PEMRA) counsel Hafiz S A Rehman informed the bench that a complaint had been filed in Council of Complaint against a TV channel for violating the code of conduct during the Faizabad sit-in.

The offended TV channel had sought 14 days' time to submit a reply to the complaint.

Khatm-e-Nabuwat clause: IHC gives govt until Feb 20 to submit Haq's report

The bench also expressed concern over delay in appointment of Pemra chairman.

The AGP stated that the process had already been initiated. The court observed that the process of such appointments should have started six months before filling of the post. And if the post becomes vacant due to some incidents then the appointment should be made within 90 days.

Deputy Attorney General Sohail Mahmood submitted a report on behalf of Islamabad police, wherein it was stated that 418 persons were arrested while 27 FIRs had been registered. However, the bench noted that no details of challan had been shared with the court. DAG Mahmood sought two days' time to submit details of all the cases.


COMMENTS
Comments are moderated and generally will be posted if they are on-topic and not abusive.
For more information, please see our Comments FAQ