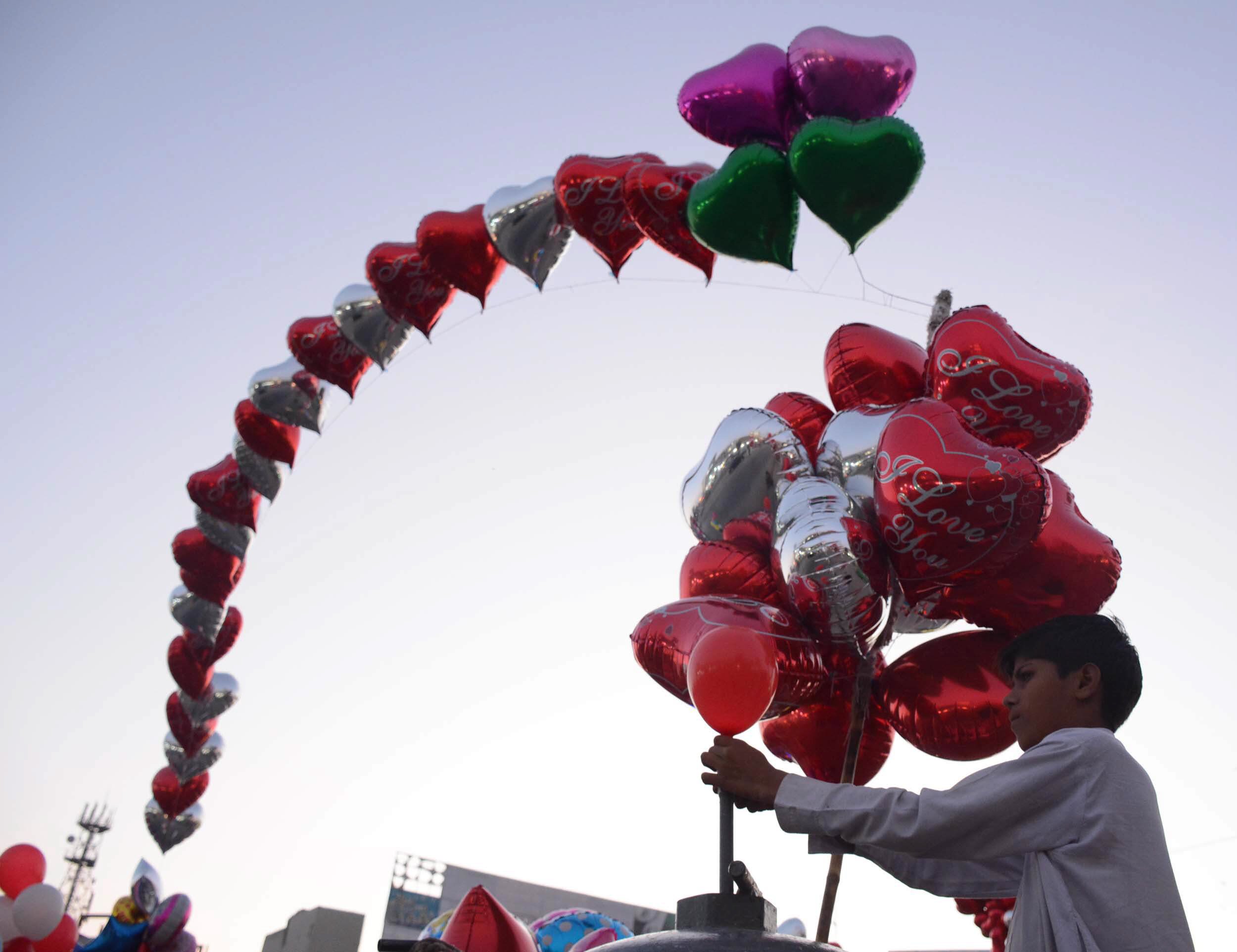 ---
ISLAMABAD: Having gotten off from work, Nauman Khan rushed to a nearby flower stall, hoping to get some roses before they ran out. The plan: to visit his fiancé at around dinner time armed with a nicely done bouquet and some chocolates in the most customary of Valentine's Day gifts

"We got engaged last month and her parents allowed us to see each other often at their home. I will celebrate Valentine's Day with her because I think there is nothing bad in expressing your affection for someone on the day meant for the expression of love," the 21-year-old told Xinhua while selecting flowers at a shop in Islamabad.

Nauman is among those who opted to celebrate Valentine's Day despite a ban on it, imposed by the Islamabad High Court last year for being 'un-Islamic'. The court had also directed the electronic media regulatory authority to put a check on television channels from airing any content in this context.

Despite the ban, markets and restaurants in the capital were more crowded than usual and Valentines' Day remained a top trend on micro-blogging site Twitter for most of the day.

Overall, the country is divided on the issue, while believing that there is nothing wrong in celebrating the day, others, though, believe that it promotes a western culture and back the ban.

There is another dimension to it. It is seen as an indulgence for the young and educated in large urban centres, while a majority of the population living in small towns and rural areas remains indifferent to the celebrations.

Salman Shahid wrote on Twitter, "I may be allergic to maulvis (clerics) but I fully endorse their stance on Valentine's Day! It is a festival which has no grassroots linkage with Pakistan and does not fit with our culture."

Nadia Ismail, another Twitter user wrote, "It is ridiculous that courts are banning the celebration of love in Pakistan. It is hatred, tyranny and injustice that should be banned, not Valentines' Day."

The youth wing of religious political party Jamaat-i-Islami (JI) opts to mark the day as "Haya Day" (Chastity Day) and conducts countrywide activities and programmes to promote the day.

Defending the court's verdict, Rukhsana Hussain, a lawyer in Islamabad, said that the judges are not against the celebration of basic human feelings, but they do put a check on media to prevent obsessing over the day too much.

"Pakistan is a conservative country where most of the families do not allow their girls to mingle with boys," Hussain told Xinhua, pointing towards the grim statistic of thousands of honour killings every year.

"Having a romantic relationship with someone out of wedlock is a taboo in Pakistan, so to avoid further complications in the society, the courts had to ban the Valentine's Day celebrations," she explained.

Published in The Express Tribune, February 16th, 2018.