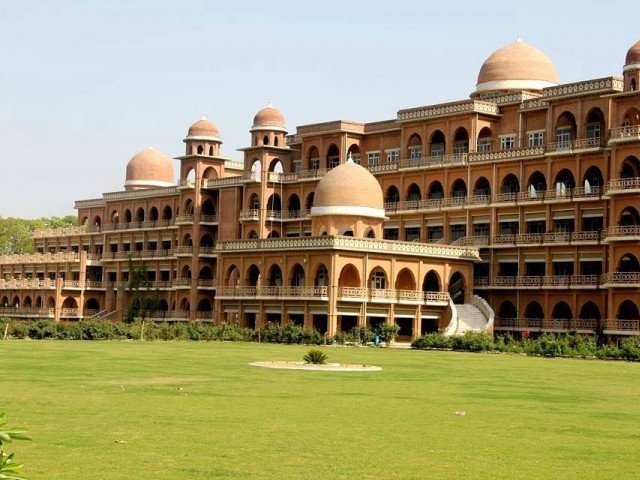 ---
PESHAWAR: In a bid to prevent students from celebrating Valentine's Day on campus, the University of Peshawar took an extreme step by giving all students a holiday on Wednesday, it has been learnt.

Moreover, the university's administration organised a joint workshop for its 640 faculty members to mask its true motive, sources close to the move told The Express Tribune.

The workshop, titled "Faculty Development Workshop on Quality Assurance," was held in the varsity on Wednesday and had been announced via social media just a few days before the event was supposed to be held — surprisingly late for an event of such size and magnitude.

The university administration also issued a notification about the classes which had been cancelled because of the workshop.

But sources familiar with the move said that the workshop was a cover for cancelling classes and keeping students away from their departments so that they could not celebrate Valentines' Day — at least not on campus.

'Hypocritical move'

Teachers of the varsity, meanwhile, slammed the move as an "act of hypocrisy."

"It was unprecedented and it should not have been done," said one faculty member, adding, "How can you organise a workshop for more than 600 faculty members on a single day and at a single place? What would be the benefits of such a workshop?"

The faculty member went on to explain that workshops involve activities in which the participants are engaged and that these activities are only effective when conducted with a small number of participants.

Another faculty member remarked that the university could have simply banned activities relating to Valentine's Day on campus rather than giving students a holiday, much less being involved in such a rigmarole.

"This is hypocrisy. They (the university administration) should have clearly stated that they are against Valentines' Day celebrations rather than covering it up with a workshop," said the teacher, adding that the university should now issue a notification for make-up classes.

Despite repeated attempts, UoP's Media Officer Ali Imran did not respond to calls made by The Express Tribune. 

Published in The Express Tribune, February 16th, 2018.