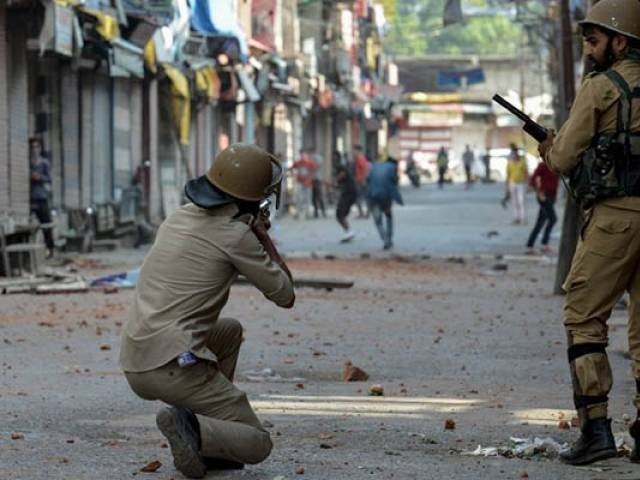 ---
ISLAMABAD: Responding to the Indian claim that Pakistan will have to 'pay' for a recent militant attack in the Indian Occupied Kashmir (IOK), Islamabad has warned New Delhi against any misadventure, saying any such move will be met with an 'equal and proportionate response'.

"Any Indian aggression, strategic miscalculation, or misadventure regardless of its scale, mode or location will not go unpunished and shall be met with an equal and proportionate response" said Defence Minister Khuram Dastgir on Wednesday while delineating contours of Pakistan's security policy before Senate.

"Pakistan is expanding the arc of terror… resorting to ceasefire violations (on the border) to assist infiltration. Pakistan will pay for this misadventure," Indian Defence Minister Nirmala Sitharaman said on Monday after a militant attack on a military base in Jammu.

Islamabad warns New Delhi against escalating tensions

Commenting on the claim, Dastagir said instead of the knee-jerk reaction of blaming Pakistan for the attack without substantiation, India must answer for state-sponsored espionage against Pakistan.

"Living evidence in person of Kulbushan Jadhav is in front of the world. India has failed to deliver justice to the 42 Pakistanis murdered in the Samjhota Express terrorism, whose eleventh anniversary is approaching in five days," he added.

He said after denying it for over a decade, the Indian army chief in Jan 2017 at last publicly confirmed India's Cold Start doctrine against Pakistan. He said India has amassed men, material, and garrisons along its border with Pakistan, while its China-specific Mountain Strike Corps has been languishing.

Thar rallies : PTI leader warns India against misadventure

"Pakistan's perception of threat from India is not a reflex. It is based upon a thorough assessment of Indian capacity to threaten Pakistan militarily from an unprecedented forward position" he added.

Dastagir said India is destabilising regional peace in word and deed, through irresponsible statements on nuclear deterrent and through its bloody, five-fold escalation in 2017 of attacks on unarmed civilians on the Line of Control (LoC) and working boundary.

"The past year was the deadliest in terms of Indian bombings of civilians on the LoC. In 2017, India violated the ceasefire more than 1,800 times, the highest ever in the recent past. This shelling resulted in 52 deaths and caused injuries to 175 others," he added.

Hot line contact: DGMO warns India against any military misadventure

The minister said the Cold Start deployment against Pakistan, lethal violations of the LoC, and human rights abuses in Kashmir are compounded by India's jingoism, reckless rhetoric, and use of third countries for espionage against Pakistan.

"The case of Kulbushan Jadhav is illustrative of the espionage and destabilisation inherent in 'Not War, Not Peace' strategy of India.  An aggressive Pakistan centric doctrine and arrayed forces under a belligerent regime leading to possible strategic miscalculation by India will seriously impact the strategic stability in South Asia," he added.

Security beefed up in Islamabad after threat alerts

India one of diverging points between Pakistan, US

According to the minister, perception of India is one of the foundational divergences between Pakistan and the United States. For nearly two decades, the US has deemed India as its strategic partner to counterweight China. It is reiterated in the recently announced US National Security Strategy.

He said the US has been trying to convince Pakistan that India is not a threat to Pakistan, and therefore Pakistan should change its strategic stance. "The truism remains true: threat is calculated on capacity, not intent. Both India's capacity and intent are hostile to Pakistan," he said.

ISPR releases video showing destruction of Indian LoC posts

Afghanistan conundrum

Yet, India is not the only source of divergence between strategic worldview of Pakistan and the US. What Nadia Schadlow has termed 'American Denial Syndrome' is the second and more topical. The US has conducted its longest war in Afghanistan.

"It has spent nearly a trillion dollars, sacrificed more than 2,000 US soldiers and injured thousands. What is the result? The graveyard of empires, which Afghanistan has been called, is witnessing a new grave," he added.

He said the US secretary of defense James Mattis announced in June 2017 that the US is "not winning in Afghanistan right now". The denial is in the causes of 'not winning'. Dastagir said Pakistan is the scapegoat, because 'billions and billions' is a handy excuse to forestall realistic, rigorous analysis.

"'Billions and billions' is a callously transactional, counter-productive and offensive argument to Pakistan, whose people, armed forces, economy, and infrastructure have suffered losses and pain beyond imagination during the anti-terror affiance with the United States since 2001," he said.

"Shall we put a price-tag on use of ground lines of communication, air lines of communication which average 300 sorties daily, use of ports and air-bases, the matchless intelligence cooperation that decimated Al-Qaeda, the three million Afghan refugees we continue to host, and thousands of Pakistani civilians and armed forces personnel who lost and continue to lose their lives by hand of those who operate from across the border in Afghanistan... the list continues," he added.

The minister said the way forward in Pakistan-US relations is not through threats, notices, and suspensions of support.  He said we should direct our eyes to sustainable peace in a democratic Afghanistan. This is Pakistani foreign policy's highest objective.

"The Afghan war will not be fought on Pakistan soil. We have eliminated safe havens and are clearing the remnants of terrorists from our soil. It is convenient to blame Pakistan for cross-border terrorism, but the US has not lifted a finger to help us fence the border.

"It is also convenient to blame Pakistan for the US failure in pacifying Afghanistan, yet the US has not lifted to finger to pursue internal reconciliation seriously. Instead, the American finger is on the 'kill' button in Afghanistan," he added.

Senator warned against being put on watch list

The Pakistan Peoples Party Senator Farhatullah Babar said Pakistan might be put on the watch list as a country deemed noncompliant with terror financing regulations of the UN and as a result suffer huge economic backlash. He called for sincerity of purpose in matching the promises with the ground reality.

Speaking on an issue of public importance, he said the Financial Action Task Force (FATF) will meet in Paris early next week and consider Pakistan's compliance status with international regulations to choke financing infrastructure of terror organisations.

"In addition it will also consider a motion to place Pakistan on the terror financing watch list already moved by the US and some and some other European countries," he said.

He said four days ago the president promulgated an ordinance amending the Anti-Terrorism Act 1997 so as to bring individuals and organisations listed by the UN Security Council in its ambit. It was followed by cabinet approval to the new Anti-Terrorism (Freezing and Seizure) Rules 2018.

"These are positive moves, however, the fact that the ordinance has not been brought before the parliament as required under the Constitution and the law has raised some serious doubts about the intent of the move. We must be sincere in honoring the pledges we make," he added.

Senate Chairman Raza Rabbani also deplored that the ordinance issued by the president had not been placed before parliament even as it was in session.
COMMENTS
Comments are moderated and generally will be posted if they are on-topic and not abusive.
For more information, please see our Comments FAQ