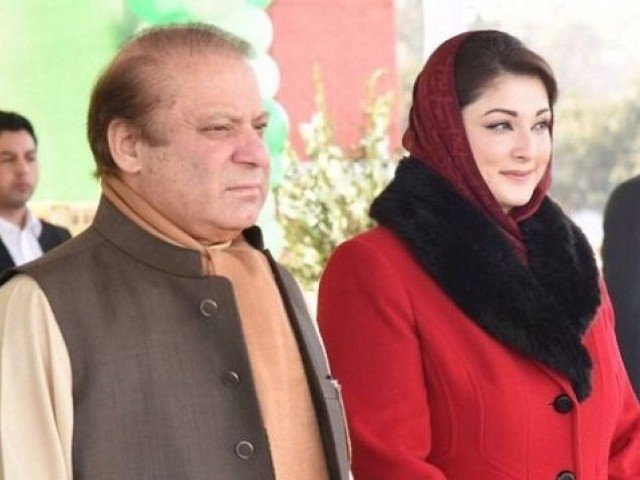 ---
ISLAMABAD: The National Accountability Bureau (NAB) on Wednesday requested the Ministry of Interior to place five of the Sharif family members -- including deposed prime minister Nawaz Sharif -- on the Exit Control List (ECL).

The development came a day after the Sharif family filed an application with the accountability court, seeking a fortnight's exemption from personal attendance from February 19 onwards on the grounds that the former First Lady's treatment is in the final stages and the family needed to be with her in London.

Those included in the list forwarded to the interior ministry were former PM Nawaz Sharif, his daughter Maryam Nawaz, sons Hassan Nawaz and Hussain Nawaz, and son-in-law Capt (retd) Safdar.

Ishaq Dar's Senate nomination papers rejected: ECP

Sharif's sons, Hassan and Hussain, are already abroad and NAB has stated in the letter that "the accused persons have been declared proclaimed offenders by the trial court and in case they return to Pakistan they will be arrested on arrival for the production before the court for finalisation of the cases against them".

While, according to the 'ECL placement performa' filled out for Sharif, Maryam and Safdar, NAB has mentioned that "in compliance with the Supreme Court orders dated July 28, 2017, investigations on the allegations of corruption, corrupt practices, and amassing assets beyond means against the accused were conducted and references are pending before accountability court, while the accused person did not join the proceedings against them at NAB despite service of summons. There is every likelihood that they can flee abroad to avoid the process of law".

In February, NAB had issued summons for the deposed PM Sharif and others, directing them to appear before NAB Rawalpindi on February 10 to record statements in a bid to complete the legal formality before filing two supplementary references.

However, Sharif and others did not appear before the bureau and now NAB has stated the same reason for placing Sharif and his family members' names on the ECL.

Now, it is to be seen how the interior ministry would positively entertain the NAB's request because in November 2017, NAB had requested the interior ministry to place the name of former finance minister Ishaq Dar on the country's no-fly list, a request which is yet to be entertained by the interior ministry.

PTI to challenge Ishaq Dar's nomination papers

The request was made after an accountability court issued non-bailable arrest warrants of Dar following his continuing absence from court proceedings in a pending reference – accumulation of assets beyond known sources of income – against him.

However, the interior minister at first asked NAB to justify its request of placing the name on the ECL.

However, when NAB submitted the reason, the interior ministry took the stance that Dar was already abroad and it would be of no use to put his name on the ECL.