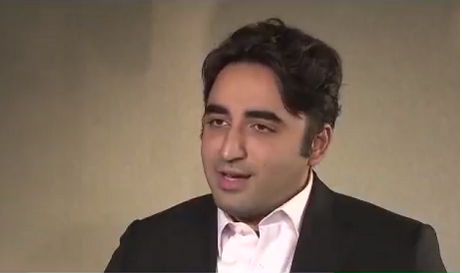 ---
KATHMANDU: In an interview with Russian Television the Chairperson of Pakistan People's Party, Bilawal Bhutto Zardari expressed his party's views about the Afghan War, the Syrian Crisis and International Relations on the whole.

When asked about Pakistan-US relations and the prolonged state of the Afghan War, he said "Unfortunately the Afghan War has turned into this forever war, where the United States has lost sight of its objectives, it seems that they do not know, why they are there, what they are going to do, or how they are going to get out."

He identified terrorist activity and the slipping writ of state to be the two major problems that plague Pakistan's northwestern neighbour.

Pakistan cannot be made scapegoat for failures of others in Afghanistan: Aizaz Chaudhry

"The fact of the matter is that 75 % of Afghanistan witnesses terrorist activity, 45% of Afghanistan is not in control of the Afghan government", he said.

Asserting Pakistan's position on the recent bombings in Afghanistan the PPP chairperson said, "We want there to be peace in Afghanistan, but it has to be an Afghan led peace and the Afghan Forces and NATO Forces need to start taking responsibility for their failures, if they have not been successful, its time for us to rethink what we are doing."

Speaking about the Syrian crisis and the aftermath of the war, he said, "The PPP and I, believe in non-interventionist foreign policies and that if change is to take place, it should take place domestically and organically."

Pakistan will suffer if judges continue to play politician, says Bilawal Bhutto

He further added that the West got 'overly excited' by the Arab Spring and did not allow it to take its organic conclusion. He pointed out that individuals and state agendas should not be cultivated in Afghanistan, Syria or Iraq, the will of the people should preside.

Moving on to international relations, he said, "We have always emphasised good relations with all countries, especially our neighbours. I don't think it is fair to expect Pakistan to not maintain good relations with its neighbours."

He talked about the vitality of harnessing good relations between Pakistan and Russia, saying that Pakistan and Pakistanis, "like to be treated with respect and the government of Russia and the people of Russia have been very respectful to the government and the people of Pakistan".