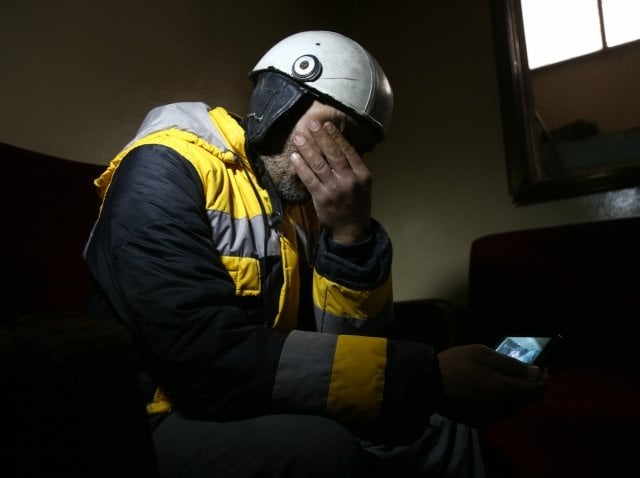 ---
For years, Samir Salim and his three brothers rescued neighbours and relatives pinned underground after bombardment on Syria's rebel-held Eastern Ghouta. But last week, they could not save their own mother.

Crouched atop the rubble of their home in the town of Medeira, 45-year-old Salim pinches hot tears out of his eyes with dusty, blistered hands.

"It was a very difficult position to be in. It hurts to think that she was a mother of four rescue workers, and none of us could save her," he tells AFP.

"My mother was so proud of us, and of our work."

Every day since 2013, Salim and his siblings have chased air strikes on Eastern Ghouta as part of the White Helmets rescue force.

They spend hours searching for and extracting residents of the rebel enclave near Damascus from under blocks of rubble -- dead or alive.

But last Thursday was different.




Among the dozens of victims of Syrian government strikes that day was Salim's 80-year-old mother.

Returning to the pile of cinderblocks and concrete that was once their home, Salim rewatches the shaky video footage he captured that day.

In it, his mother appears in a black headscarf, her bloodied and motionless body pressed underneath a collapsed wall. Salim is crying.

"I save people, mum, but I can't save you. What do I do, mum? May your soul rest in peace."

'I stopped in my tracks'
Eastern Ghouta, the last rebel bastion on the capital's doorstep, is home to around 400,000 besieged Syrians.

Last week, Syrian warplanes and artillery conducted an intense five-day campaign there that left around 250 civilians dead and triple that number wounded.

Death toll tops 220 in four-day regime assault on Syria rebel enclave

Rescue workers were overwhelmed, rushing from the site of one air strike to another with little equipment and dwindling fuel supplies.

Salim and his unit were en route to a collapsed building in Mesraba, a nearby town, when they heard another air strike hit Medeira.

"I got a very strange feeling. My heart was telling me: something awful just happened in your home," Salim recalls, his voice cracking.




One team went on to Mesraba, but Salim joined those heading to his hometown, arriving to clouds of dust.

"I stopped in my tracks, trying to understand what was going on. That's when I realised the strike had hit my own house," he says.

"I didn't expect to find anyone alive."

Still, he got to work. He rescued his father, 23-day-old nephew Samer, and sister-in-law before reaching his mother's body.

Breathlessly, Salim called into his walkie-talkie for colleagues to bring rescue equipment to extract her.

"I asked for back-up but my colleagues were a bit late. I don't blame them, because of the hysterical bombing campaign on the area," he explains.

Salim had rescued his father from the aftermath of an air strike two years ago, but his mother's death was a different sort of tragedy.

"I didn't panic then the way I did this time. Maybe it's because a mother's affection is different."

Nurse becomes patient
Fellow rescuer Saeed al-Masri says his toughest mission ended differently: he rescued his three-month-old son Yehya after bombardment hit their home in Saqba last week.

"The houses were flattened. My cousin was killed. My house was hit," he tells AFP.

"I had a feeling my son and wife were dead."




His wife's shrieking stirred him out of his stupor. He rushed to her, found his bloodied infant and ran him to the hospital.

The moment was captured in a photograph of Masri clutching his bleeding son to his chest. He is now home with the blue-eyed baby, who sports a bandage underneath his left eye.

Muslim nations call for making Middle East a WMDs-free zone

Bombing raids on Eastern Ghouta have even put medics on operating tables, instead of standing over them.

Nurse Malek Abu Jaber, 20, was heading home for a break from the makeshift clinic in Jisreen last week when an air strike hit.

"Suddenly, I felt myself being thrown back by something hot. I didn't know what hit me until I saw blood streaming down from my stomach," he tells AFP.




He returned to the clinic, this time as a patient. Hours earlier, he had been complaining about his dislike for abdominal surgeries because of the potential complications.

"I felt like the wounded people that come in every day. I felt the tingling of the needle, the wound being stitched up, the gauze, the real suffering of wounded people," Abu Jaber says.

He lies on a hospital bed while a colleague changes the bandage on his stomach, surrounded by children wounded in recent fire.

Despite his injury, the young medic insists on helping his beleaguered colleagues with a smile.

"We can't catch our breath. The wounded come day and night, and the pressure on us is massive," he says.

"Despite all that, we're facing these air strikes as a matter of duty."