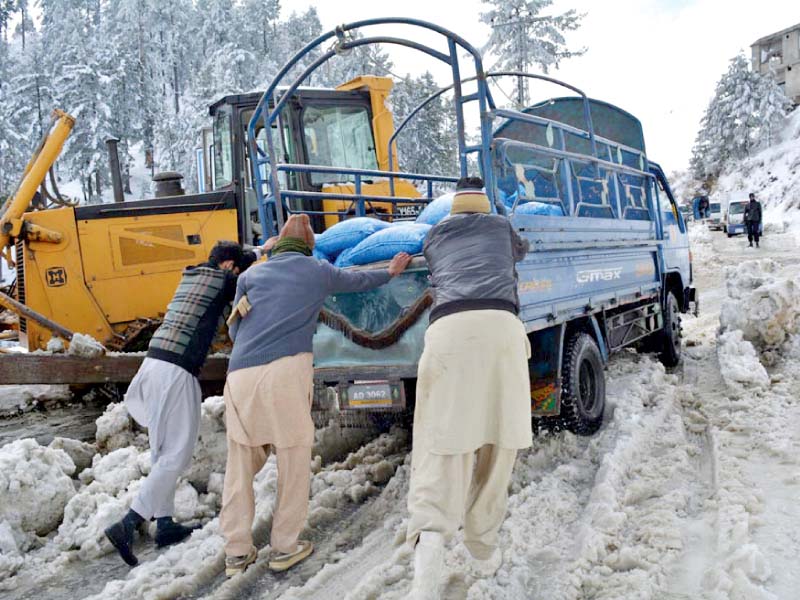 ---
RAWALPINDI: The heaviest snowfall of the year so far has spelt trouble for hundreds of tourists who had flocked to the scenic hill stations of Murree.

The snow has blocked several roads and some tourists had to be rescued by the police using snow bikes.

According to the Rawalpindi police, they used snow bikes provided by the Punjab government to rescue as many as 200 tourists who had been stranded in the Malka Kohsar area of Murree.

Moreover, as many as 50 tourists, whose cars had broken down, were helped.  Officials also helped change punctured tyres of 30 vehicles.

Senior police officers such as Rawalpindi Regional Police Officer (RPO) Wasal Raja, Rawalpindi City Police Officer (CPO) Israr Abbasi and Rawalpindi Chief Traffic Officer Yousuf Mari supervised traffic arrangements, including monitoring traffic in Murree, issuing suggestions to drive safely in a mechanically fit car while coming to Murree and also to ensure that the air pressure is low in their tyres.

Snow strands scores of tourists in Murree

The battery condition should be stable so that even in the freezing temperature, the car could start easily.




Officers further said that they had banned the entry of heavy vehicles in Murree. He said that due to the snow bikes provided by the Punjab government, full traffic services are being provided to the tourists during the snow.

Moreover, he said that they had deputed additional traffic warden officers to help manage traffic and to facilitate tourists.

He asked the tourists to follow the instructions issued by the traffic police so that there could be an ease in the provision of travel facilities during the snowfall.

Snowfall advisory

The Galiyat Development Authority (GDA) on Tuesday issued an advisory to tourists, urging them to avoid unnecessary travel to snow-bound areas.

Nation braces for more rain after snowfall hits northern areas

A spokesperson for the GDA said that an operation to evacuate people and tourists stranded in Galiyat has been completed.

No tourist was stranded as of now in the Galiyat areas, the official said.

Moreover, he added that the process of clearing the roads and de-icing is expected to begin soon after the ongoing spell of snowfall stops.

If tourists are caught or face any trouble, they have been encouraged to contact the authorities by phone on the number 0992-408203.

"The help desk would continue to operate around the clock," the spokesperson added.

WITH ADDITIONAL INPUT FROM APP

Published in The Express Tribune, February 14th, 2018.