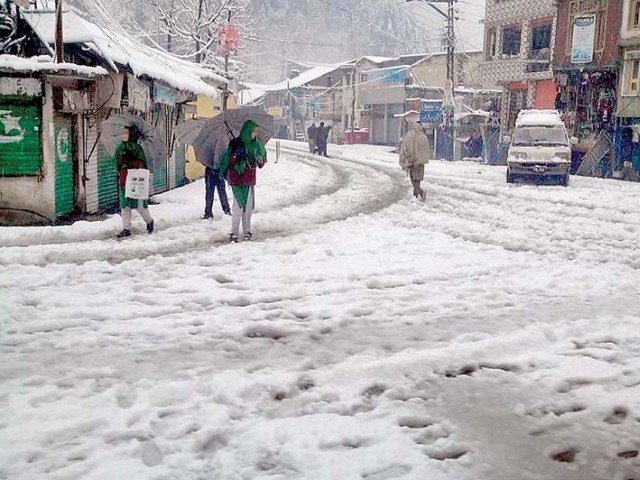 ---
PESHAWAR: At least five people died and three others were injured in the rain and snow-related incidents across Khyber-Pakhtunkhwa over the past two days.

Heavy rains and snow began on Sunday night across the province which continued on Tuesday. The snow had also stranded tourists in the hilly Hazara Division where roads were blocked in the Galiyat area.

In Mardan, a one-year-old boy died while his parents were injured on Monday evening when the roof of their house in Bageecha area of Shahbaz Garhi caved in, the Provincial Disaster Management Authority said. The dead and injured were rushed to the MMC hospital in Mardan for treatment.

The toddler was identified as Husnain.

Meanwhile, the roof of another house caved in, in Peshawar's Lal Kurti area. According to rescue 1122, 55-year-old Abdul Jamil and his eight-year-old son Umar. The boy's mother was injured and had been rushed to the CMH for treatment.

In Lower Dir, the roof of a house collapsed due to heavy rain. The falling debris killed a woman and her daughter. Traffic in the city remained quite slow where because of construction on the BRT. Pools of rainwater around the construction site made it almost impossible for people to walk.

In Chitral, the Lowari Tunnel was closed down because of excessive snowfall on both sides of the tunnel while the authorities feared an avalanche.

Published in The Express Tribune, February 14th, 2018.